Hai friends Thank you so much for the response..next episode is here now earlier..Let's go to the episode
Abir reaches Sonia's house
Abir: Sonia…
Sonia: Sorry for what I did Abir I'm so sorry..I think god gave this to me as a punishment for that
Abir: Don't talk like a stupid. You are such a good soul and you don't deserve this..
Abir consoles a broken a Sonia while Mishti and Sonia have some happy time.

After sometime Mishti and Abir start to home. On the way Mishti breaks down in Abir's arms.The scene freezes.
Its Kaira's college. Kartik is explaining certain things to his first year PGs while girls are drooling over him.
Naira is walking that way and is irritated to see girls so close to him. She walks with her eyes fixed on Kartik and dashes on Mihir and her lipstick is on his apron
Mihir: Hey..Naira careful
Naira: Sorry Mihir..it was by mistake
Mihir in mind: I'm waiting for the day when you intentionally your lipstick sticks on me..not on shirt perhaps
Naira doesn't notice his smirk and walks away.
Scene shifts to Goenka House..Komolika's house is shown in a parallel (Red font)
Anurag: Arjun Can I ask you something
Komolika calls Maya
Arjun: Do you have any need for permission 
Komolika: I don't think our plan will work now
Anurag: Do you know Mrs.Bajaj personally
Maya: Why do you think so
Arjun: Anurag…first of all I don't know Mrs.Bajaj
Komolika: Anurag's friend knows you 
Anurag: Then you reacted like that
Maya: Who is that friend who knows Maya Bajaj
Arjun: Mere bhai..I know Maya …not Mrs.Maya Bajaj
Komolika: Arjun from Delhi
Maya is shocked 
Anurag isn't able to correctly contemplate it
Arjun: And please I'm back with y'all after so long I don't want to rekindle those bad times again
Maya: Arjun…is…Anurag's friend…my goodness this should not have happened 
The scene freezes on the shock of Maya and Anurag.
Kartik and Naira reach home. Naira stays silent without talking to Kartik
Kartik pulls her closer and: Kya hai..why are you so silent
Naira: Because you don't keep silent..
Kartik: What
Naira : Don't act smart Kartik
Kartik: Naira I don't understand what you are talking about
Naira: Badi flirting chal raha tha college Mein juniors ke saath
Kartik: What
Naira: What what..i saw it with my eyes so don't try to escape
Kartik: Naira I was just explaining them the rules
Naira: Aren't there any other girl PGs to do it
Kartik smiles at Naira's cute angry face which has turned all red
Kartik: Achaa…so..madam is possessive
Naira: Haan Hoon..already Aashi and Tara weren't enough and now these many girls..
Kartik: You don't believe me❓
Naira: I don't believe other girls..that too when I'm having such a hot husband
Kartik: Dont worry this mendak is only for you..kisi Aur ladki mujhe choo bhi nahi sakti
Naira: Choone kya aas paas bhi nahi aane Doongi mein
Kartik: Ye Huyi na Sherni waali baath
Kaira are enjoying their moments when Mihir is standing outside the locked door overhearing their conversation
Mihir in mind: Chi..Naira..what's this..flirting with Kartik..leaving me..Acha this is to irritate me right..don't worry once you confess I'll get my revenge
The scene shifts to Bajaj Mansion
Maya is looking at her wedding pic with Mr.Bajaj
and her pic with Arjun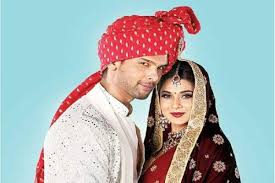 Maya: One was my past and one is present. I have to save my present by hurting someone close to my past. Oh God how long will this punishment continue for me
A small girl runs and comes there
Girl: Muma..muma
Maya hides her pic with Arjun and runs to the girl
Maya: Payel beta..you are back from school
Payel: Haan muma and do you know I wrote an essay on Papa today
Maya: Acha…
Maya picks her in her arms and takes her into the kitchen
Maya in mind: Everything I did was for her sake..I must do this too for her..Arjun if you had known this…maybe….
Scene shifts to prison. Mr.Bajaj is meeting someone
Mr.Bajaj: Maya is here and she is the best for all this
Guy: Correct sir..and mam is going on the right track
Mr.Bajaj: Good keep an eye on her
Guy: Okay sir
PRECAP: MIHIR AND NAIRA GET LOCKED INSIDE THE COLD STORAGE WHERE MIHIR TRIES TO GET CLOSE TO NAIRA. KOMOLIKA PLAYS SMART WITH ANURAG WHILE ARJUN STILLS DOUBTS HER. AKASH AND ARJUN DOUBT A FOULPLAY IN KOMOLIKA's BAIL

.
HEY GUYS NEXT EPISODE WILL BE UPLOADED TOMORROW