2. Kabir goes mad
A pair of 49 eyes are on them. Pooja bows her head down closing her palm and Kabir is checking his wound without considering others reaction. The students starts to deliver crtitical comments on Kabir and Pooja which is heard by them clear. Kabir asks them to stop and asked to concentrate on their experiment. Comments were reduced a bit. Kabir – "Come on, let us apply band-aid". Pooja didn't give a response but gives him stare. Kabir – "Don't be adamant and I am not the person who would get afraid of your stare. And the money notes are blood stained now. Come on. Let us go".
Ishani and Mahek come near Pooja and hold her right hand looks it is bleeding profusely. Pooja moves out leaving their hold, followed by Kabir. Ishani and Mahek follows her.
It is the next room from the lab where they are in to dress the wounds.
Kabir washes his wrist in sink saying, "Why are you both here? Isn't it enough if one come to dress Pooja's wounds?" Ishani and Mahek blink. Ishani – "I came to dress her wound sir."
Mahek – "I came to help Ishani, sir. What if she fail to dress the wound properly?"
Kabir gives a derisive smile to them – "So, it is too boring to do experiments. Am I right?"
Mahek murmurs – "If you're there, why should I come here?" Kabir applies some liquid on the injured area and now Pooja washes her hand in the sink. The water made her scream but she suppress. Kabir – "Why are you hesitating to scream now? No one would hear as the room is sound-proofed". Pooja didn't speak anything where as Ishani and Mahek starts to feel embarrassed. They apply medicine to Pooja's palm.
Ishani – "Sorry, sir. She was bit nervous at that time, thats why such embarrassing situation".
Kabir – "Thats fine. And there is no need to call me sir, brother is more than enough. I am just a senior and your sir has some important work to do and it was the reason why he asked me to take the lecture".
Mahek – "Oh, that's great. So, this is the reason you didn't scold Pooja at the class and didn't create scene at lab".
Pooja punch her at her right hand. Mahek screams. Ishani laughs louder and suppress it.
Kabir smiles and leaves.
Ishani – "Mahek, can't you keep your mouth rest in peace?"
Mahek – "What did I do, Ishani? I was right. If someone else was at his place, definitely Pooja was dead".
Pooja – "Let it be, girls. So, Kabir is not a lecturer after all he is my senior".
Ishani – "Yeah I was happy at that point but he had asked me to call him as brother. That break my heart into pieces".
Mahek – "Yeah. Who will call the handsome hunk as brother? Why not friends? My heart is also shattered."
Pooja – "Let me give you both a fevicol. So that you can paste the heart pieces into one".
Pooja gives a derisive smile and the three laughs.
Hours passed by and the college hours has over. Students were coming out. Kabir comes out with his friends. Two girls interrupted his way saying, "Sir, excuse me. I have a small doubt in the chapter you've taught today." Kabir is surprised wheras one of his friends gives a sarcastic look on him. One of his friends say, "Sir is expert in biology, he is a moreover expert in practicals and he can do everything practically than in theory. Let it be, where you have doubt? Practical or Theory…" Kabir blinks, then gets the hidden metaphor and punches his shoulder. While Kabir clearing their doubts, they get stumbled due to a crashing sound.
Everyone rush to the parking lot where they heard such sound. Kabir's bike is crashed and the his bike seat was scorched where it is evident that they pour Sulphuric Acid. The mirrors were broken and the headlight was smashed smoky. It looked like big size cheesy scorched bread than a bike.
Kabir gets tearful and kneels down seeing his bike's state.
He could remember that he got the bike through EMI and only before 2 days, he spent his savings to end the bill. He is fond of bikes but he bought it to get his sister Shivli home from her working space. He also remembers how he travelled with his late mother Suman when he bought the bike. He remembers the rituals his mom and his sisters did when bike come to their house, He could remember how he caressed his bike like his own child by cleaning it daily, wiping the dust often in the mirror and the nameplate Shivli – Kabir – Suman on the front of his bike which is written by his late mom without sleeping that night. His eyes turns red when he thinks about the culprit who had done his cruel thing to him. The one person who comes to his mind is Pooja. He crumbles his fist on the cemented floor which bleeds profusely.
Eighteen hours later,
"I just wish to kill you on the spot. I never liked your existence nor the presence of you," a girl says in a extremely frustrated voice that makes even a tough person to shiver. "Over." Then the girl turns off all the sound buttons by pressing to the bottom and removes the headset. The girl turns back and looks at the director with a smile giving a thumbs-up. "It is powerful, Shivli". Shivli smiles. Shivli thanked him.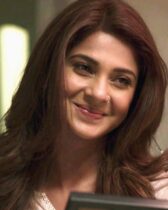 A technician comes inside and says, "Shivli ji, Kabir bhai has come." Shivli is surprised to see Kabir there. Kabir gives her the tiffin box. Shivli – "Kabir, how did you come here? I mean your bike is smashed." Kabir – "I came by bus, didi." Shivli caressed his face saying, "Why are you stressing yourself, I can have breakfast at nearby dhaba. Also, you have to go college too now. So much straining now. I already said you you don't come here. Also, I am doing a simple work here with lot of work. I won't suffocate."
Kabir caressed his both hands on Shivli's face, "Madam ji, You're not doing a simple job. You're a dubbing artist who have to dub for five serials in a day. Also, its not good for you to eat roadside foods. I can manage to go college somehow. You don't worry." Shivli – "But, Kabir…"
He shut her mouth by his hands, saying, "Go and eat soon, the food is warm." Shivli – "Take care, dear." She hugs him and gets inside.
Kabir calls someone says, "Be careful, our plan must get succeed today. I would teach her a heavy lesson today, which she never forget." From the receiver, a lady voice says, "Of course, tell me the destination later and let me come there. But don't forget, you have to pay me."
FB:
Sixteen hours before,
Pooja is in her house which is a upper middle class house with a elegance and lavishness. Pooja, Ishani and Mahek are watching a movie. Ishani and Mahek's mom Ritu (Shivani Gosain from Naagin 5) joins them with four packs of popcorn and hands it to all. Pooja gives a awkward smile and gets it. Ritu – "How many times shall I ask, what happened to Pooja's hand? See, her soft hand is full of bandages and white cloth." She holds Pooja's hand and looks, she suddenly draws back her hand.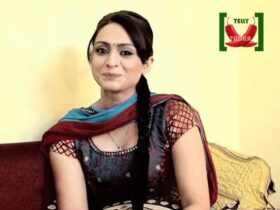 Pooja – "Chachi, more than the wound, your dialogues are making my ear bleed. How much should I say, you could not understand?" She says like sticking a needle in the banana. "If you understand or knew the reason, you definitely thrash me." Mahek and Ishani looks at them tired. Ritu – "Hello, Mahek and Ishani, you both are looking as if you are the most piteous soul in the world. Are you out of the world till now? Tell me the reason." Mahek- "Mummy ji, if I say the reason, your niece will eat me for dinner and Ishani for breakfast. Please let us in peace."
Ritu – "None of them are obeying me…." When she starts to murmur, Pooja intervenes by saying, "Chachi ji, please don't start now, I broke…."
"Someone's bike and their feelings," say Kabir loud entering the house.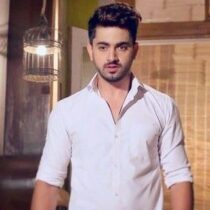 Ishani, Mahek and Pooja are shocked to see him where as Ritu stands confused. Pooja lifts her hand, but he holds her hand and pinned her to the wall. "Why did you do such a cruel thing to my bike?" Pooja smirks, "So, the plan has worked well." Kabir gets mad. Kabir – "Mocking and spoiling others feelings and lives in father's money is a cup  of tea for a disgusting lady like you. What did I do? I asked a question in the lab and returned the money to you, but you voluntarily break your hand by smashing the flask. It is your arrogance and your ego. But what did you do with my bike? Ended everything…. Everything you have destroyed…" He says with intense anger mixed with tears.
Pooja interrupts and says sarcastically, "This is not a daily soap to shout and sob… Why are you so overacting first? Can't afford a normal price for it?"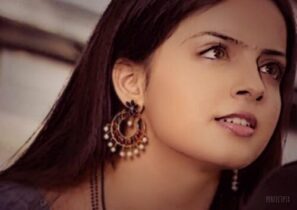 His blood boils hearing her arrogant sarcasm and raised his hands to slap her, but stopped after seeing the horrified Ritu and frozen Mahek. Pooja herself was taken aback for his act. Ishani comes near them, "Kabir, we are sorry for her. Please control yourself. I didn't even think she would do such thing."
Pooja stares at Kabir but changes it to a smirk afters seeing him frustrated.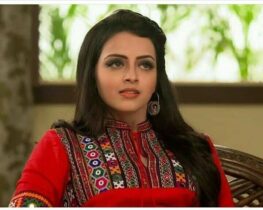 After seeing her derisive smirk, he goes mad and leaves the house out of frustration.
Kabir comes to his house ad looks at the destroyed part of his bike. He breaks down into tears.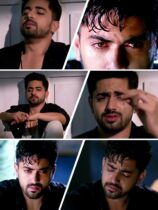 Shivli – "Kabir, please don't cry.After all, it is a thing. Don't feel for it."
Kabir – "No didi, it is not just a thing. It is a part of my soul. Only after buying the bike, your TB has cured completely. This is a lucky charm for us. That's why, you are with me. But that girl destroyed my bike for her ego."
He rests on Shivli's shoulders and cries miserably. Shivli didn't understand his brother's hidden childish nature for his love on his bike. Kabir didn't understand why is she taking it so easy.
FB ends.
To be continued…
The post Gathbandan Ki Ek Ajeeb Kahani – ShreZain ArJen FF – Episode 2 appeared first on Telly Updates.