Hello friends,
Thank you Avni, Ananya,Kruthi,Nitya,my friend and all silent readers for the comment and support shown.
Next morning..
Maheshwari house, phone rings…
Badipa : hello…
Mehul:Good morning
Badipa:ji,bolo…
Mehul: ketki ki wedding anniversary celebration party hai aaj, I am inviting all your family members to join…
Badipa:why not.. we will come for sure.
They talk and cuts the call. Badipa calls the girl's out and informs them the same.
Kuhu:#party after a long time.
Mishti:when should we go from here?
Badima:by 7 I think so…
Mishti nods.
Kuhu: which dress will I wear…?
Mishti:decide after class,come now
They leave.
At night,
Rajvansh house is full of decoration. Everybody is busy with arrangements.
Kunal:bhai, has Mishti been invited?
Abir:how would I know?
Kunal:kya hai bhai?
Abir looks at him. Maheshwari family enters.
Abir gets a smile unknown to him when he sees Mishti.
Kuku smiles with each other. They are welcomed in.
Ketki is given gifts and is seen happy. They are having a
family time.
Kuhu:#husband missing…
Ketu:he must be on the way.
Mishti:why did you get married so early?
Nidhi: she was in love with him for 3 years!
Kuhu:3 years!
Ketu: Maa…
Mishti:what's so surprising in it…?you are so beautiful every guys would have fallen for you…
Kuhu: but I can't keep one for a year!
Mishti:what about BF serious?
Girls smile…
Ketki ki sasural enters… Mr.soni,Mrs.soni, Tarun and Varun… Maheshwari remembers them.
Mrs.soni:what is this family doing here?
Kaushal:they are going to be relatives now,Abir is getting married to Mishti.
Mrs.soni:what this ladki? Have you guys gone mad?
Mehul:kya hua..?
Mrs.soni:even we have visited them with a proposal, these two girls left me insulted! They don't even know to talk to elders. They have not given her any values.
Mehul: please they are our guests.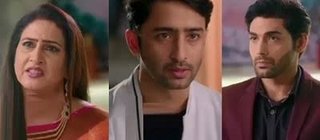 Mr.soni asks her to calm down.Mrs.soni continues her naagin drama.
Abir:stop! Enough they have been tolerating as it is ketki's function. You don't have any right to tell them about their parenting.
Mrs.soni:I don't have,but I am asking you to not marry her,it will be very disastrous!
Mehul: I know her,she won't do anything hurting this family.
Mrs.soni: parul,try to understand. You can understand what I mean!
Parul:what's wrong Mrs.soni?
Mrs.soni: why do a man need a wife to do his jobs and to take care of family… but she can't be like this. She needs to
Abir:work! What's so big deal in it? I have already asked her to work even after marriage.
Abir's fight intensifies.Everyone looks on. Mishti is tensed. Abir continues supporting Badipa and Badima.
Mishti:stop it Abir! Come with me.
Mishti pulls him out. Mrs.soni is irked. Varun and Tarun asks her to calm down.
Mishti confronts Abir at the courtyard
Mishti: what are you doing Abir?
Abir: which I wanted to!
Mishti: do you even think of the outcomings?
Abir: what else should I do?
Mishti:I was silent after all these,do you think I was not angry?
Abir:I don't know! But…
Mishti:but kya?
Everything gets back to normal inside the house…
Abir: what else mishti?
Mishti:today is ketu's day. Her happiness should not get affected by this.
Ketu from behind is hearing this gets emotional and come towards them. Ketki hugs Abir.
Ketki: please bhai, let it be.
Abir nods and looks at Mishti. Mishti smiles.
Party on…
Kuhu (on stage):special occasion hai special couples ki dance on stage…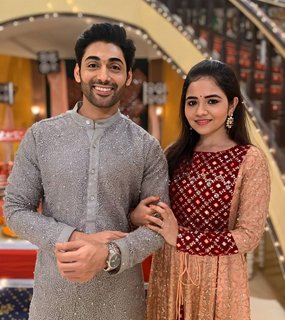 Ketu and Varun comes and have a performance…
Everyone smiles and claps for them.
Kuhu: let me welcome old gold couples for a dance…
Mehul uncle with parul aunty….
Kunal:badima and badipa from maheshwari family…
Both of them nods no. Everybody insists they performs
Bole Chudiyan Bole Kangana laila
Haay Main Ho Gayi Teri Saajna
Tere Bin Jiyo Naiyyo Lagda Main Te Margaiyaa
Lehja Lehja Dil Lehja Lehja
Lehja Lehja Soniye Lehja Lehja…..
Mehul: old gold couples ki ho gaya! Let us now welcome the new couples on stage.
Kuhu:# Mishbir!
Kunal: Mishti and Abir on stage.
Abir and Mishti looks each other.
Mishti:how can we perform alone…?
Abir:yes,Kunal and kuhu has been inviting everyone but thinking that they are not being invited…
Kuhu and Kunal looks each other.
Mishti:let us welcome them to join us!
Everybody claps. Kuku and Mishbir on stage…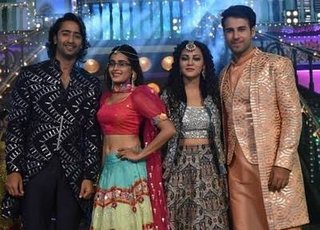 Shayad kabhi na keh sakun main tumko
Kahe bina samjh lo tum shayad
Shayad mere khayal mein tum ek din
Milo mujhe kahin pe ghum shayad
Jo tum na ho rahenge hum nahi
Jo tum na ho rahenge hum nahi
Na chahiye kuchh tumse zyada
Tumse kam nahi….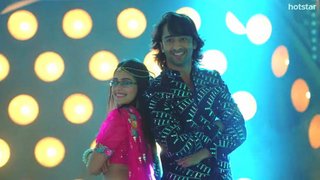 They are looking so hot,it seems like they are going to put the stage on fire!
Performance and celebration continues.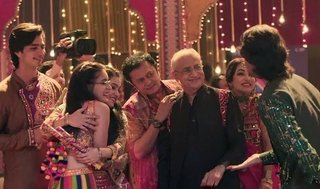 Badipa:beta,I want to say something.
Abir:ji bolo,
Badipa:I had a small doubt if you are the one for Mishti,but seeing the way you supported mishti today,I got assured.
Abir:anybody would have done the same…even I don't like that aunty
Abir smiles and badipa also smile.
Mishti:what is he saying to Badipa?
Tarun:hello Mishti…
Mishti:hello…
Tarun:you didn't even mention about marriage?
Mishti: just discussion was going on
Tarun: oh! Abir is good,makes a good match.
Mishti:thank you…
Ketki comes to Mishti and takes selfies with her.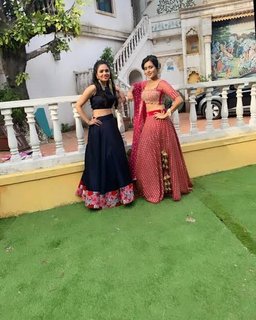 Tarun looks at them and smiles.
Party got over.
Next day,evening
Mishti is working… Mishti's phone rings.
Mishti:hello..who is this?
Unknown: I have send a message and follow my order.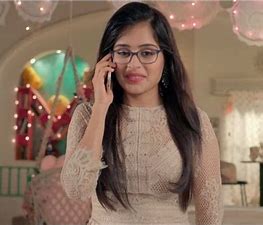 )
Mishti:what?
Mishti checks phone and gets shocked.
Mishti gets up and rushes all of a sudden.
Mishti reaches a place,it looks like a lodge. Mishti head towards a room and knocks and gets in. There is no one inside.
Mishti:it's the place. But…
Someone knocks the door. Mishti gets tensed.
Abir:its me! Mishti relaxes and open door. They look each other.
Flashback rolls…
Mishti sees the message with a nude picture of ketki and a threat.
Mishti:I have to inform someone from Rajvansh family.
Mehul uncle… nahi. He won't be able to handle. Abir sahi hai!
Mishti calls Abir. Abir is in office busy with work.
Mishti forwards the message and asks him to come.
Back to reality…
Abir:who the hell will be this unknown?
Mishti:don't know, why would the unknown call me?
Abir:I feel like thrashing him…
Mishti:cool down Abir… Mishti keeps her hand on Abir's shoulder.
Policemen gets in. Abir and Mishti looks on.
Officer:looks like from a big family and doing these cheap acts…
Abir:it's not like that we was…
Mishti:Abir! Mishti nods not to tell. Abir understands.
Officer:let's have explanation at station… come.
Mishti:have you seen us doing anything wrong? We was just talking,why should we come ?
Officer: shut up, don't shout so much… this place is undergoing a raid and you two are arrested as you are found here…
Abir and Mishti defends them. Officer takes them along. Media persons arrive at the place.
Mishti and Abir has been interrogated on the media…
Maheshwari house,
Kuhu gets a call and gets shocked. Kuhu runs to the hall and puts on the news channel.
Badipa and Badima also come and gets shocked to see Mishbir getting arrested on the raid.
Badipa calls Rajvansh house.
Rajvansh house,
Kunal:I think it's from Mishti's family.
Everyone is tensed, they already has known about the raid.
At police station, Mishbir are giving justifications. But the officer's are not listening.
Mishti:what can we do now…it would have been viral by now!
Abir:we can tell them the truth.
Mishti: Abir, for a girl her self-respect is everything. We can't hurt ketki !
Abir:what about you? We are being defamed.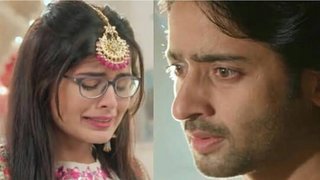 Mishti cries,Abir holds her.
Mehul and Badipa enters. They see them.
Officer:what's your complaint,sir?
Mehul:they are our children.
Officer:sorry sir, they have been arrested in a raid!
Mishbir looks at them.
Mishti:uncle,we have not done anything wrong,please believe us.
Badipa:we have seen what you have done…please don't do a drama here.
Abir:it's not like that!
Badipa:please!
Mehul and Badipa convinces the officer from filing FIR.
Mishbir are taken home.
Rajvansh house, both family members are looking forward for an answer
Badima:kuch bolo,why are guys silent?
Mishti:we just talked each other,we didn't do anything wrong!
Mehul:if you want to talk,you should have gone to park,coffee shop…
Abir:sweetheart,it's not like that.
Dadu:who asked you to go there in that cheap place?
Mishti:woh…
Abir:I called Mishti to come there.
Mehul:Abir,what did you do!!
Mehul is about to slap him Mishti comes in front. Mehul stops himself.
Mishti:even I am at fault as I have gone there when he called.
Kaushal:media is waiting outside!
Badipa:we have decided what to tell them already.
Vishwamber and Mehul goes out….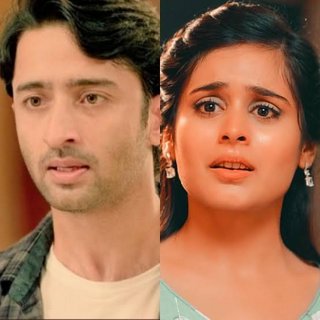 Mishbir looks on..
Media asks many questions and asks them to answer.
Mehul:it's not what you think, they are already engaged.
Badipa:yes,they are getting married in this month. We already have done the arrangements.
Mehul:but we didn't made it public. It's all a misunderstanding.please leave.
Mehul and Badipa enters back. Media is controlled from not entering.
Mishti:don't you trust us?
Badipa:there was two muhurat for wedding.we thought after three months . But it's necessary now…
Mehul:to live in a society,we need to maintain our dignity,so it's for our family's pride.
Mishbir looks on.
Thank you…. Merry Christmas for all my friends….