Hai friends I'm back with today's episode. Thank you so much for your wonderful valuable comments and support. Please keep supporting like this.
Episode starts
Anika and Sheela come back to Oberoi Mansion. Shivaay gets down from the secret room with a huge portrait of Disha.
Anika: Shivaay..are you going to hang this picture anywhere
Shivaay:
When you have a place in this Oberoi Mansion my Disha too has..do you remember it's you who removed all these pictures from here..that time I didn't know..I thought u were worried for my tears but i know it now
Anika: Shivaay
Shivaay: Feel happy that I haven't thrown you out yet..my divorce notice will reach you till then you can stay here
Sheela: Jamaai sab
Shivaay: Oh shut up Mrs.Ashok…a murderer's daughter will be a murderer. So keep quiet
Shivaay storms of. Sheela smirks at Anika who stands there helpless.
The scene shifts to Udaipur. Keerthi reaches home with Manish and Swarna
Manish: Keerthi…you better join our office..anyway Kartik isn't interested
Keerthi: Thank you papa
Manish: I hope you will handle life in a matured way from now
Manish goes to his room. Keerthi comes out to take her luggage from car. She grabs them and walks in while she slips and Naksh holds her. They have an eyelock
Few seconds later they come to senses.
Naksh: Please be careful Keerthi
Keerthi: Thank you Naksh
Naksh: Naira told me..don't worry for idiots..you stay happy for yourself
Keerthi: Okay
Naksh: Good to have you back..will be happier if we get our old happy Keerthi
Keerthi smiles and bends down to grab her bags while Naksh helps her. Their hands touch sending electric current down their spines but they ignore it and walk further. The scene freezes
Riya is in a resort. Someone touches her from behind. She stands up to see …
Riya: Kevin….
Kevin: Hey wifey
Riya: Kevin…please stop it…I'm not your wife anymore
Kevin: Then I must tell about your Kabir to everyone
Riya: Why are you using a dead man to blackmail me..you did kill him still your hatred for him doesn't reduce
Kevin: So does my love for you my highness
Riya: Kevin..please stop it
Kevin: Don't forget our old good days sweetheart
Riya: Which good days..when you used to beat and torture me all day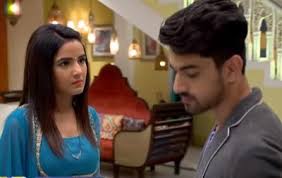 Kevin: That was whenever you spoke about that Kabir..don't forget our friendship
Riya: I'm leaving
Kevin: You have 10 days time. Think and decide
Riya leaves in her car.
The scene shifts to film theatre. Kartik and Urvashi's film has released and Kaira are there at the theatre to see response
Kartik tightly holds Naira closer
Kartik: Naira…I'm….
Naira: Shut up..it's gonna be ok
Kartik: But
Naira: The premiere was awesome so will be movie now
Kartik bends down and kisses her
Again cameras capture it
Naira: Kartik…
Kartik: It's a lucky charm for me..the previous movie with Nethra was a hit..because
Naira blushes. Kartik hugs her.

Sometime later in the producer office Kaira are standing in the corridor
Just then Urvashi storms there
Urvashi: Whats that nonsense…kissing her infront of me..
Kartik: Hey Urvashi this dialogue should have been told by Naira if I had kissed you for promotion of the movie today…you should not ask this
Urvashi: Kartik…don't support her in front of me naa baby
Naira: Baby..
Naira slaps her in a reflex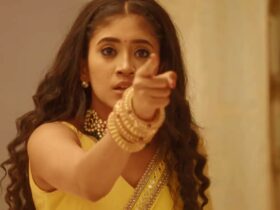 Naira: See..only I have the right to get close to him offscreen onscreen everywhere…you can do it as the character of the movie to the character played by him..that's it…only the character belongs to you..but Kartik always belongs to Naira
Kartik is really happy with it.
Producer: Well said my dear..never let your right on him. Kartik I know the kiss was to…
Kartik: Sorry sir
Producer: Never mind it's a lucky charm only. Movie is doing great.
He pats Kartik and thus breaks Urvashi's nose. The scene freezes
Ruhi and Vihaan are in a cafe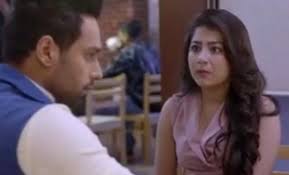 Vihaan: Suddenly missing me…what's wrong..is it because Naira got married and left
Ruhi: It's because I love you idiot…I thought you will know it yourself and understand but you are tubelight…but I have told it to you..I'm leaving
Ruhi gets up to leave. Vihaan holds her hand and pulls her closer
Vihaan: If it love then why are you leaving now
Ruhi: Because you consider me as a friend and love Tia
Vihaan: Did I say so…who told you I love Tia
FB:
Ruhi and Vihaan are travelling from airport. Vihaan is enquiring about Tia all the way to the cafe. Ruhi is too irritated. Even after reaching cafe he is not stopping.
Ruhi: Hey idiot I have been missing you terribly…why are you talking about Tia always to me..if you really want to know about her you could have asked her to come to the airport right
Reality
Vihaan chuckles. Ruhi turns to look at him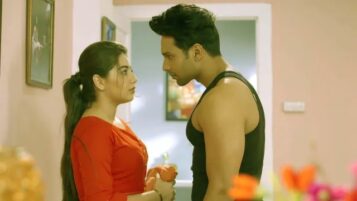 Vihaan: Hey idiot you fell for my prank…I wanted you to propose first that's why I did like this
Ruhi: Did you know I love you
Vihaan : Haan
FB:
Few days before when Vihaan was abroad Ruhi and Vihaan are having a phone conversation at night. They keep on talking and lose track of time.
Vihaan is speaking but there is no response.
Vihaan: Ruhi…Ruhi…have you slept
Murmurs: I love you too Vihaan…I love you..
Reality:
Vihaan: You were murmuring I love you too Vihaan…I realised you love me and also want me to propose you that's why I tricked you into proposing me
Ruhi hits him. He pulls her into a tight hug
PRECAP: SHAGUN's CALL TO NAIRA. NAKSH CONSOLES KEERTHI. PAST OF RIYA KEVIN KABIR.
The post Woh Chaand Toh Mein Hoon – KEVIN,KISS,PROPOSAL (EP 27) appeared first on Telly Updates.