Hai friends. If you don't like any part of the storyline do tell me in the comments and I'll change it. Thank you for your support. Let's go to the episode now,
Episode starts
Ruhi and Vihaan are hugging each other. They realise the surroundings only after few minutes and break the hug.
Vihaan: Ruhi..I'll be back in sometime
Saying so Vihaan goes away while Ruhi is sitting with her mobile. Few minutes later she looks up as she feels something falling on her. Her eyes notice Rose petals falling on her. She turns here and there to see the restaurant workers scattering rose petals in the air. She turns to see Vihaan on his knees. He gives her a rose
Vihaan: I
He gives her another rose and: Love
Another rose and : You
Then he gives her a huge bouquet of roses and Ruhiiiiiiii
Ruhi's eyes get wet with tears. She gets into Vihaan's embrace instantly
Ruhi: I love you too Vihaan..more than anything
Vihaan: More than anyone else in my life
The scene freezes on their bliss.
Its Kaira home. Naira is lying down in the couch. Kartik comes out from the kitchen with a plate and goes to Naira. He notices that Naira has fallen asleep in the couch
and keeps the plate on the side table and. bends down to plant a soft kiss on her cheek.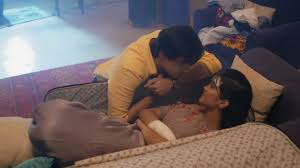 Kartik: Naira..you look so beautiful while sleeping…like an angel…today my Sherni got so angry with Urvashi for calling me baby…do you know something I really loved that possessiveness of you. That too when you said Kartik always belongs to Naira I felt like lifting you in my arms and swirling around
Naira: Why didn't you do then❓
Kartik blinks blank as Naira puts her arm around his neck and pulls him closer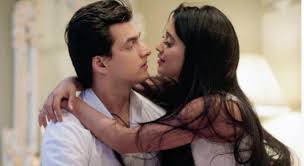 Kartik: Naira..you were awake
Naira: When you are near me how will I be asleep Kartik
Kartik: Acha Ji…it's like that..so you were overhearing me
Naira: You were talking to me right so I have all rights to listen. You loved my possessiveness ❓
Kartik: Which husband will not love
Naira: I don't care about others Kartik..I care only about you
Kartik: You heard it right
Naira: Then if you try to flirt with any girl the slap given to Urvashi will be given to you..you are celebrity but flirting not allowed
Kartik: Tauba tauba never Naira..why will I flirt with any other girl when I have my Sherni
He pulls her into his arms and lifts her up.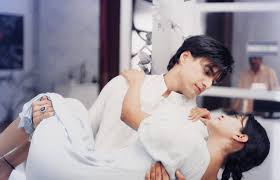 Naira: Where are you taking me ❓
Kartik: Huh to Qutub Minar
Naira: Huh
Kartik: To bedroom obviously you were sleepy right
Naira: I'm hungry too
Kartik: I'll feed you there na jaan
Naira kisses him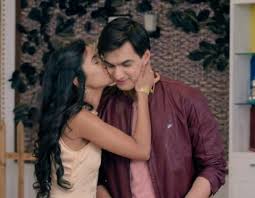 . Kartik is taken by surprise. The scene freezes.
Naksh and Keerthi are sitting in a bench facing the lake Pichhola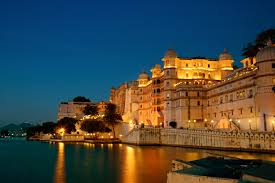 Keerthi: How often we used to come here right
Naksh: Haan…you me Naira Kartik Ruhi Adi had lots of fun as childhood friends
Keerthi: Then slowly childhood faded and we started to drift..so surprising that Naira fell for Kartik
Naksh: Keerthi to be frank initially i didn't like Kartik marrying Naira after ….you know right..Urvashi..but now after seeing their bond and closeness..I feel happy that I was wrong..they proved there is love after Love failure
Keerthi: But everyone is not lucky like Kartik to get a Naira after a Urvashi
Naksh: Don't worry Keerthi you will meet a guy who genuinely loves you and cares for you
Keerthi suddenly breaks down. Naksh gets closer to her and starts to comfort her
Keerthi: Nnnaaakkkhsssh….I have faced enough already…I'm scared of hearing about meeting another guy
Naksh: If you want you can share your sorrows with me Keerthi…I'm here all ears for you..maybe you will feel light
Keerthi: You know na…how silent and shy I was in college times…he..came out of nowhere and gave me immense courage and support that  I fell for him. Papa insisted that it is not right time for marriage…I agreed but her started to brainwash me that papa will never accept our relationship..based on my trust in him I left everyone here and went there..but there I always begged him for a valediction for our relationship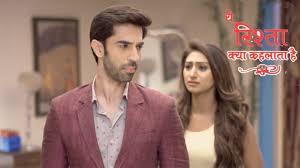 which he kept on postponing. Then when I asked it assertively he started to abuse me…
beating continued but luckily I never lost myself to him. Then one day when I found him with another girl..I was shattered..he was engaged to her too…
Keerthi's sobs intensify when Naksh gently pats her head to console her.
The scene shifts to the garage where Shagun is. She luckily unties herself and finds a mobile near her
Shagun: Seems like the one used by Ashok..I'll call Someone from it
Shagun sees Naira's number in the contact and calls her. Naira is sleeping when her mobile rings. She jumps on hearing the ringing sound. Naira slowly picks up the mobile in her hands which start to shiver on seeing the same unknown number. Her movements wake Kartik who notices her trembling hands and takes them in his
Naira: Kkkaarrttikk..the same number
Kartik: Attend it…lest face it
He attends the call and connects the speaker
Shagun: Hello..is anyone there…I'm…Sshhhhhaaaagunnn…I'm kidnapped by Sheela and Ashok…hheeeree…in a garage please help me
The call disconnects
Naira: Kartik..is this real..Shagun bua
Kartik: Naira it may be a prank too
Naira: But
Kartik: Let's go to the garage where Sheela aunty met Ashok..maybe we can find something
Kaira start to garage. The scene freezes.
Its Romi Riya's bedroom. Riya is tossing in the bed. Romi pulls her closer and gently kisses her
Romi: Sweetheart don't worry about Kevin's call. I will never let him near you. Please sleep now.
Romi dozes off when past flashes in front of Riya
Riya in mind: Years ago someone said the same thing but…that Kevin didn't leave him…God don't snatch Romi from me like you snatched Kabir from me that too on our wedding day
Pictures of Kabir's last moments flash before her
Her eyes get wet without her knowledge as his last words ring in her ears
Kabir: Rrriiiiiyyyyyaaaa……dddooonnnt trust Kevin…he is a devil in the form of a human…he…..
Kabir breathes his last before he could complete his sentence. Kevin poses as a saviour and marries Riya
in the mandap set for Kabir Riya wedding. After marriage when Riya mourns for Kabir the true colours of Kevin come out and he blurts killing Kabir and starts to abuse Riya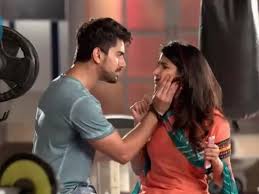 for loving Kabir.
Riya is brought to reality when she finds Romi looking at her
Riya: What happened Romi
Romi: You must say..your body is wet with sweat..what happened
Riya: I'm feeling hot
Romi: Riya..AC is at 18
Riya: Romi….
She hugs him as he consoles her
Romi: It's about Kevin right…don't worry..I'm there for you always to protect you
Romi makes her lie down and pats her slowly. Riya goes to sleep in his lap.
PRECAP: KAIRA FIND A CLUE. SHIVAAY's JOURNEY DOWN THE MEMORY LANE. RUHI IS OVERWHELMED. NAKSH SAVES KEERTHI.