Love Is In the Air just take a moment to have a deep breath and inhale the love into yourself. Let the love reach your lungs and mix with the blood like oxygen and reach the beautiful heart beating inside you. Love is indeed an oxygen essential for this life. Love has caused our birth and life.
 

Love Makes Life Beautiful Always . May this valentines day bring beauty to the life of everyone. Happy Valentines Day

 

Episode starts

Its next morning. Mishti and Kuhu slowly wake up. Sensing their movements Naira and Prerna too wake up

Kuhu: Naira di..Prerna di…? Aap

Naira: Thank god you are normal now

Mishti: Normal?

Prerna: Haan….chalo Naira lets tell Abir that his zaalima is normal now

Naira: Haan behcara was sleepless

Mishti is shocked to hear about Abir

Kuhu in a whisper to her : How do they know? 

Mishti: How do I know?

Naira and Prerna laugh

Prerna: See Naira my bechari behen doesn't remember anything 

Naira: Bechara toh my Devar hai

Mishti: Didi…what happened?

Naira and Prerna tell the happenings 

Mishti makes a puppy face and so does Kuhu

Mishti: Didi we just had brownies 

Kartik: Naira…Prerna…are you up?

Naira: Haan Kartik

She opens the door

Anurag Kartik Akash and Abir walk in

Kartik: Mishti Kuhu you had the brownies?

They nod

Kartik: They were spiked..by

Akash: Mr.Mehta

Anurag: Akash who is he

Naina : Ill tell…he is a big mafia doing all crimes…I fought a case against him and put him in jail…he even kidnapped me…and all this is for his wife Rupali Rajdeep Mehta

Mishti: Rupali Mehta is in our hospital…a patient in coma for years….had brain tumour

Naira: Even I saw her in the room next to which bhai was there

Akash: He is taking revenge against Naina. Sorry that

 Mishti: Akash bhai leave it

Abir: Haan…we will be careful hereafter

Kunal runs in
Kunal: Plan set for today..its treasure hunt…get ready soon
Eveyone get busy as excitement grips in.
Within sometime everyone is the garden of the resort
Kunal: We are divided into 3 teams of 4 each. The treasure is hidden somewhere here around the resort. You will have an inital clue from which you have to keep cracking to find the treasure. Now lets start. 
The staff reads the team list : Anurag Kartik Naira and Prerna  as one team. Abir Kunal Kuhu and Mishti as one team. Naksh Akash Naina and Keerthi as a team.
Kartik : Woohoooo
Everyone scatter around in search of the clues. A guy covering his face with a mask (not N 95 though 😅) and a black outfit follows the team.
Mishti is all awkward after knowing the previous night happenings. Abir notices her
Abir: Mishti…what happened 
Mishti: Sorry Abir..woh yesterday 
Abir: Yeah yeah you made me embarrassed and got me caught. I bearing everything and you slept peacefully 
Mishti holds her ears as apology
Abir laughs
Mishti gets angry at it. 
Mishti: Acha so you were making fun of me
Abir: What else? 
He pulls her closer and is about to kiss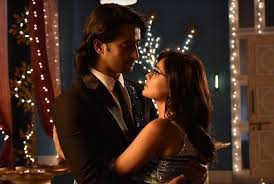 Kunal: Guys…guys concentrate on game first…then you can romance
Kuhu drags Mishti with her
Kartik and Anurag are deeply engrossed in the clue
Naira comes and takes Kartik with her. She holds him closer. Kartik gets excited and tightens his hold
Kartik: Whoa in romantic mood huh
Naira: No Im preventing you from becoming khabab mein haddi
Kartik: What?
She points towards Anurag and Prerna who are looking at the clue and thus getting a few alone moments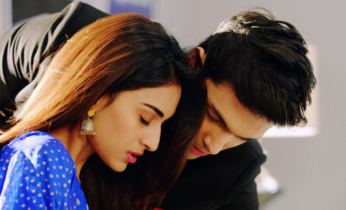 Naira: Our love is public so we have no issues to romance when we want but them..lets leave them alone
Kartik: Thus get our time. But the
Naira: I already found the next 2 clues one of which is with them the other is here
Naira shows it
Kartik lifts her above the ground
Kartik: Oye Naira you are great yaar…I love you
Naksh gets exhausted and is resting. Keerthi comes to do tending. Naksh kisses her cheek
making her go red
Naina and Akash race each other for the clues
The space is filled with laughter and banters
PRECAP : WHERE ARE NAIRA AND KEERTHI❓