Hey Guys,
The face – off is here ,
May you enjoy it,
Its tenth episode,
Let's go
Naira reaches the Address. She bells the ring. Just then her phone rang.
Naira (on phone) – Hello… What!… Ok… I am coming.
She leaves the place in a hurry just then Kartik opens the door.
(A pinch of serial vibes 🤭😉)
Scene Shifts to Goenka Villa.
Naira Reaches there and saw Kairav injured.
She hugs him.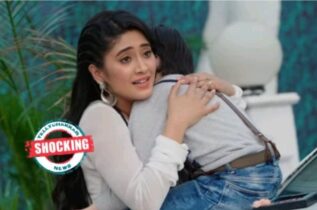 Naira – Baby What happened? How did you get injured.
Kairav – Mumma One big boy broke the photo frame of Papa's picture. I got angry and we get into the fight.
He said crying. Naira wipes his tears.
Naira – Baby don't cry. Mumma will give you another one.
She picked him up and tends to him and made him sleep.
She enters into her room. She sits on the bed on crying.
Naira – Why did you do this god with that small child what should I say him about his father? Each and every day he asks me about his father. Till how much time should I lie to him. I can't anymore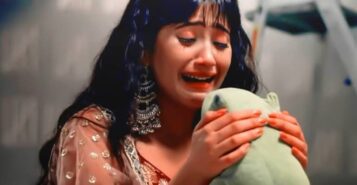 Naira – Today I saw Kartik in temple. I know if I tell this to anyone. No one will believe. I.. I.. told Maa she also didn't believe. What to do? Kya karun mein? Kya karun?
She said crying. This was all listened by Gayu who was going through the room but listening her cries she stopped there only. She pitied on her small sister and want to give her back her happiness. She goes back to her room.
Gayu – Mishti I want to meet you and Kartik urgently. Where are you tell me now.
After sometime, Gayu left the home for Kartik and Mishti's Home.
Gayu enters the house. She looked at Kartik angrily. He bows his head down.
Gayu – I really want to slap you Kartik but I will not Because it's my Sister's right.
Gayu – Enough. I don't want to listen any other excuse , today you both will come with me to Goenka Villa.
Gayu – I can't see my sister's pain anymore which I am seeing from 5 years. You never saw her suffering that's why you will not understand her pain and you never felt it.Now you both will come with me to Goenka Villa. Let's Go.
Mishti – Yes di. You are right.
Mishti – Yes BFF. We have to go.
Mishti – Bff one day we had to do this. Let's solve this puzzle. Seeing you Di will be happy. You will be happy.
Gayu – Kairav will also be happy.
Gayu – He is your and Naira's child.
Kartik – I missed his childhood due to my misunderstanding. Let's go I want to meet him.
They Leave For the Goenka Villa. After sometime , they reaches the Goenka Villa. They open the door of the car. Seeing Goenka Villa tears form in his eyes. Seeing his house after 5 Years.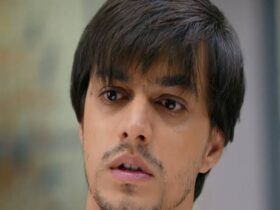 Everyone was sitting in the hall talking. Naira was still lost in Kartik's thoughts. Swarna notices it. She took her aside.
Naira – Maa I am saying true. I saw Kartik.
Swarna – Naira baat Samajne ki Koshish karo.
Just then she saw at the entrance which shocked her to the hell. Just then Naira also looks towards the entrance.
Naira's POV
I was shocked more than it I was angry. No, I was happy. No , I was angry. I was having a mixed emotions. What to do? What to say? I doesn't know? Was it true? Or my dream? Is kartik really standing there? It means in temple I saw him only.
POV Ends.
She shouted which catches everyone's entrance. Everyone looked at the entrance shocked.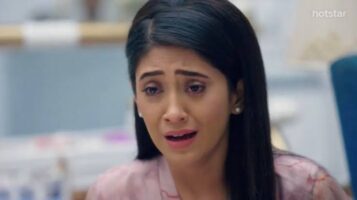 Naira wasn't able to believe the sight. Her hands were trembling her tears weren't stopping. She looses her balance Swarna and Surekha hold her.
Kaisa sulook zindagi to kar rhi hai,
Mujhey to mujhi se paraya kar rhi hai,
Jaise ki aakhri so saans chal rhi hain,
Yaadon ko teri lipat ke ,
Phir yaad itni karein
Kartik didn't say anything he just bows his hand down and here Tears were continuously falling from Nair
A- Why you did this Kartik?
Luv – Bhaiya apne apni hi moth ka natak kiya?
Shubham – Bhaiya kam se kam bhabhi ke baatein mein to socha hota. Ye nhi socha ki un par kya beetegi? Dekhiye unki taraf.
He saw towards Naira. Her eyes were red.
Swarna – Pure din tumhe yaad karti hain. Pure din tumhare liye roti hain. Har din tumhari liye marti thi. Sapne mein bhi tumhe dekhti thi. Kartik tumhe apna beta kehne pe sharam aati hai mujhey.
Manish – Kartik mujhey to lagta hain. Maine ussi din galti kar di thi jis din tumhari shaadi naira se karvadi. You doesn't deserve her. Pehle to tumne usse aisa ghatiya sa question puccha. Vo usse ubhar pati tumne issey ek aur dukh de diya.
Swarna – Sahi kaha Manish Ji. Kartik what have you done to save your marriage till date. When maa ji called you Joru Ka Gulam you and naira had a fight. Instead of solving the fight you left Udaipur.
Dadi – Kittu hamne to tumhari hamesha side li. Phir bhi tumne aisa kiya. Sharam aati hai ye kehne mein ki tum iss ghar ke bete ho. Tumhari galti ki saza naira ne bhukti. She always blamed herself for your death.(She looked towards Naira) Have you seen Naira. You weren't at fault anytime. Each and every time fault was in Kartik only.
Shubham – Bhaiya pls tell now why did you fake your death?
Swarna – And Mishti and Gayu you also knew about it?
Samarth – I also knew about it.
Goenkas were at utter shock. Holding some strength Naira had left inside her. She stood up and go towards Kartik.
Precap : What will Naira do Now?
Hey Readers,
Guess Naira's Reaction and Precap,
Hope you liked it,
Enjoy Reading,
Thank You So Much ❤️
Regards
Author
Siya