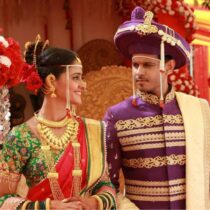 The Episode starts with Sai's journey to Nagpur. Usha Masi n her father Kamal picked her up on the bus.
Kamal: Sai beta take care of yourself.
Sai: ok aba. don't forget to take your medicine on time.usha masi take better care of aba and if he doesn't obey doctor's advice, just phone me.
Aba: ok my mother! I'll obey whatever the doctor said.
Usha Masi: Sai I packed homemade food and water bottle in your bag, don't eat anything from outside. And after reaching the hostel doesn't forget to inform us.
Sai: oh gush! ohk Masi, I'll immediately phone you when I reach there. now bye and miss you both.
Kamal & Usha: we will miss you too.
Sai sit near the window. when the bus started moving, a boy quickly got on the bus and sat next to Sai. Sai notice the boy gasp. but she ignores him and starts looking outside.
boy:ex-cause me, miss? hlw!!!
Sai: yes?
boy: do you have water?
Sai: yeah
boy: can I have some?
Sai: sure(smile lightly n pass him water bottle)
boy drink water n back the bottle to sai.
boy: thank you
Sai didn't reply just smiled lightly.
boy: hi,m Virat!Virat Chavan.
Sai: oh!
Virat: (in mine: oh! attitude?) ah! how about you? (with his famous innocent smile)
Sai: (take a little breath)m Sai Joshi
Virat: ooooooooooohh!
this time Sai looked at him and they have an eye lock.
Sai in mind ( what a strange boy, I shouldn't talk with him)
Virat in mind(how beautiful her eyes are, it's hard to take away my eyes from them)
Sai take away her eyes n again staring out of the window
Virat come in sense and start talking with his mind
Virat in mind(Virat beta! what are you doing? c'mon you have a dare to propose your crush. so you only should think about your crush. by the way,(he stares at Sai) Sai's eyes are really big and cute. aren't they? Stop!!! only focus on ..aw really nice eye's) and he starts smiling unknowingly. He again comes in sense when his phone ring. he picks up the call
Sunny: Virat! M almost finish all arrangements.
Virat: great! I'll be there in 4hrs.
Sunny: ok then bye. come soon.
Virat: ok bye.
the bus stopped with a pair of brakes. Sai's head was about to hit the front seat but Virat extended his hand.
Sai scared and take a deep breath
Sai: thank you


Virat: welcome miss.Joshi
Virat stepped forward to find out why the bus stopped like this. After a while, he came back and informed Sai that the air in the rear wheel of the bus had gone out. And they don't have any new wheels so they told everyone to get off the bus.
Sai: what!! but M still far away from Nagpur. And don't know how to get to Nagpur from here. I had to get off the Nagpur bus stand and take a taxi straight from there to the hostel. now, what will I do?
Virat understood Sai's condition and gave her confidence.
Virat: hey! don't worry. I will help you to reach your hostel.m also going to Nagpur.
Sai gets tensed, she should believe a stranger or not.
Virat said in deep voice
Virat: Sai, you can trust me. (and give a smile)
Sai looks at his eyes and her heart said to her to trust this person. so she agreed and also smile back at Virat.
they get off the bus and start walking.
precap: Virat and Sai's journey will continue with lot's of upcoming twits.
[Well m totally new to write functions.hope you guy's will like it. please let me know your opinions in the comment section]
The post Arrest under love- Chapter 1 appeared first on Telly Updates.