Mishbir runs into the hall…
Meenakshi is being violent.
Abir holds her.
Mishti gives her sedation. No one else is corporating with them.
Meenakshi:Abir….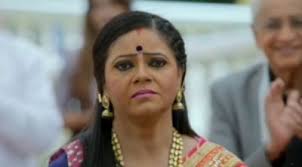 Abir:I am here. I will never leave you.
Parul looks on upset.
Dadu: I am not going to allow this drama in house.
Abir:but! It's also her house.
Dadu:it was not anymore. Mehul didn't opened the room yet. It's difficult.
Abir : but it's not done… we have to treat with care and love,
Dadu:we don't have any love left for her.
Kaushal:she is my sister, still we can't forgive what she did! Better if we shift her.
Everyone has the same opinion. Abir gets upset and sad.
Mishti looks at Abir..
Abir :I will do something today itself. Please don't worry.
Dadu:I know it's painful, but I am helpless.
Dadu turns away from him.
Mishti kisses him on cheek unexpected…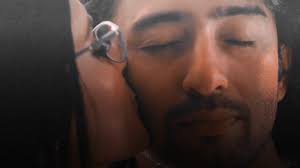 Abir gets surprised and looks at her, she smiles playfully.
Mishbir on room.
Abir:what was that?
Mishti: you didn't give me Morning kiss! So I did. It's my love…
Abir:morning kiss…! Let me show my love.
Abir holds her close and kisses her forehead.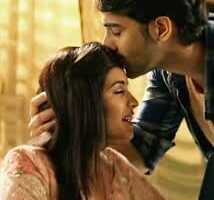 Abir slowly kisses her cheeks… Mishti gets nervous slowly…
Mishti looks at his eyes which is shining of his love..?
Abir gets closer to get the sweetness of her lips…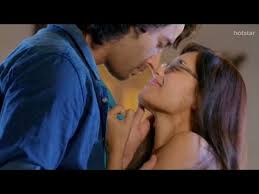 Their lips are about to touch each other…
Ketki:Nahi!
Mishbir gets back.
Mishti:it's from hall..
They again runs out and sees Nishku fighting…
Nishant:it's actually good, understand !
Ketki:no,it's not… it's too early. I don't want it.
Nishant:too early, it's around a year
Ketki: don't you find it too less…
Nishant : No its not..
Everyone looks on. Maheshwari family enters.
Abir: stop it. Why are you fighting?
Mishti:why are you asking Nannu! Ask ketu she has been shouting.
Abir:ketu…you tell me.
Nishant:what would she tell?
Ketki:don't you have anything to say?
Nishant: they will listen, but you will not.
Kuhu:hua kya hai?
Ketki: why should I listen?
Kunal:ketu please at least tell us what's going on? We will help.
Kuhu:what are you saying? Will you help them to fight?
Kunal:I didn't mean it…
Jasmeet walks to Nidhi and kaushal…
Jasmeet:take these sweets ji!
Parul :what's the matter!? We don't get anything.
Badima: Nannu aur ketu ki child is on the way…
Everyone gets excited….
Mishti and kuhu hugs ketki.
Nishant hugs Abinal. Everyone congratulates them.
Abir: it's about happiness and you two are fighting!
Mishti:it's not done.
Badima: there is a reason.
Badipa:Ha… love!
Nidhi:ketki…! Kya hai?
Kaushal:Nishant, aren't you happy?
Nishant:I am happy that I am getting my family complete.
Ketki: I am not. My whole time will be with baby and I can't spend time with Nannu…
Mishbir and kuku:oh….
Everyone teases her.
Parul:both of them are talking of love!
Mishti: your relationship become more stronger if a baby comes…
Kunal:yes! Love will not get less, it will be doubled.
Mishti:more sweetness in your love…
Ketki thinks…
Ketki:I am okay, but I will you love me more or baby?
Nishant: my first love is you.
Ketki smiles and hugs him…
Abir: Happy Happy…

Badipa:Mehul ji kaha hai?
Dadu: He is not well, room main rest kar raha hai…
Badipa:oh! Fine..
Rajvansh family can't hide it much, they reveal about Meenakshi.
Badima:what would we say? It's all fate.
Jasmeet: I don't think she should stay here.
Badipa :Jasmeet it's upto them.
Mishti:Abir…please don't react,
Abir:I will try to…
They have a talk and leaves…
Mishbir again at room
Abir:where did we stop?
Abir grabs Mishti closer…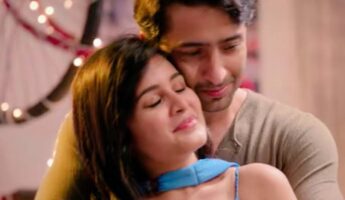 Mishti:we are already late, leave…
Abir: let's take rest…
Mishti: Abir…. You are being lazy.
Abir: you are my first choice.
Mishti frees herself and runs away…
Abir:I will take you…
Kuhu: kunal, will you love me more or our baby?
Kunal: baby! Kuhu tum…
He gets excited…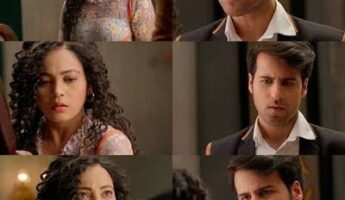 Kuhu:wait… it's not that… I am asking.
Kunal: because of Ketu…
Kuhu: tell me…
Kunal:I don't know about love, I just know that I would care you like my first daughter…
Kuhu smiles…
Kunal gets ready…
Mishti is getting ready…
Abir: do you really believe that relationship become stronger after baby?
Mishti;I just said so that she gets convinced.
Abir: oh, really!
Mishti:yeah!
Abir;I thought of…
Mishti: you now a days are thinking like this!
Abir: like what!
Mishti:you know it…
Kaushal calls Abir.
Mishti: don't go…
Abir:leave Mishti… he will come in.
Mishti: nahi…
Abir runs.
Mishbir is in car…
Mishti:I will tell something you will get angry. So give a thought before you act.
Abir:bolo…
Mishti : we should shift Meenakshi aunty to hospital.
Abir:I am not getting angry. But it's impossible.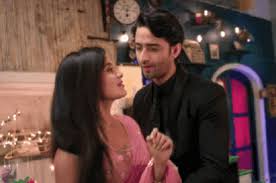 Mishti:it should be possible as no one in our house is with us.
Abir:even if they oust me from house, I don't care.
Mishti:you should care Abir… it's our family.
Abir: then,they should should be with us. No more arguments.
Mishti sits quiet and reminisces Badima asking her to keep the family united.
Abir is in his cabin, Mishti enters.
Mishti: we should talk.
Abir: I am busy.
Mishti hugs him.
Abir:it's our office.
Mishti: No difference, you will remain my hubby.
Abir: you won't listen right?
Mishti: of course not!
Abir tries to leave, Mishti makes him sit..
Mishti :don't try to go, you know what I can do…
Mishti sits on his lap. Mishti tries to convince.
Abir:I don't want to stay away from her…
Mishti:the whole day we are here. It's just about night, no one will care at home. Kuku is hesitant. Papa is upset .
Abir: I will talk to sweetheart, he is very sweet.
Mishti: I know, but it will take more timely so it's better to shift her.
Mishti insist longer and Abir agrees to his wifey finally.
Mishti gets up to leave. Abir again makes her sit.
Abir:taking advantage of me and leaving.
Mishti: kya chahiye pati dev?
Abir:you know it, better…
Mishti smiles and gets closer.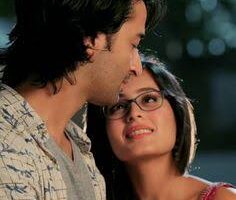 Mishti:don't expect more at office,
Mishti kisses his cheek and exits his cabin, Abir smiles.
PRECAP: WILL MEENAKSHI BE CURED?
Hello everyone, I know all are fed up for waiting so long. But I am sorry, my offline regular classes started, I think I will shift to hostel too… but I will make sure that ff ends well (even if it takes time to upload)
THANK YOU… Avni,Nithya,Shital, Meghna, Avantika, Tanvi, Nisha,
Avni, you can't predict as I am unpredictable.


Shital chauhan, hope you are happy with Nannu and ketki…
Avantika, let's see if she will turn good or bad.
It's suspense


Mishbirfan, must be really angry. But I am sorry…
The post HO GAYA PYAR TUMSE let's feel it…. (shot 61) appeared first on Telly Updates.