Hey friends here is next episode. Hope you guys like it.
Singhania House Night 10 pm
Asha and Bijoy enter the Singhania house. Prerna runs to them
Prerna: Maa
Asha: Prerna beta how is Akshara ji?
Prerna: Totally broken. Hasnt eaten anything for so long.
Nandhini Yash and Mohit come
Nandhini: Maybe I can try
Asha: We cannot afford her getting ill. After surgery we have to handle Naira
Yash goes to Naksh who is sitting in the corner crying.
Yash: Whats this Naksh? Crying like a child
Naksh: Naira..has been facing a lot man. That accident too was because of that Kabir's stress. Bua also
Yash: Leave it Naksh. He is behind the bars now
Naksh: But the damage done..what if ?
Asha: Shubh shubh bolo beta. Did you eat anything?
Naksh doesn't reply
Yash: Hadh karte ho yaar. Just now you recovered. Come lets eat something.
Yash takes Naksh. Nandhini  consoles Akshara
while Mohit consoles Naitik. The scene freezes
Anurag and Akash rush to Keerthi's cabin
Akash: Whats the urgency Keerthi? You called us immediately?
Keerthi: The surgery which is being performed tomorrow has been performed earlier to
Anurag: To isn't important. How was the results?
Keerthi: Bhai To is equally important
Anurag: Why?
Keerthi: It was done to Komolika
Anurag: But Aryan is in jail
Keerthi: The treatment was afforded by
Akash: By?
Keerthi: Mr.Mehta. He got to know about Komolika and her history while visiting Rupali.
Anurag:That idiot only spiked the brownies during the vacation
Akash: We forgot him in the midst of Rohit and Kabir
Keerthi: Now Komolika is recovering well. She remembers everything
Akash: Thats the good thing now. Naira will have a similar one. Ill post extra security and ask Ishani to have an eye on Aryan through her friend
Anurag: Keerthi Ill take you home. So that you freshen up
Keerthi: Mishti?
Akash: Im going to Singhania house Ill take her with me
**********
Goenka House 
Abir enters looking tired
Swarna: What happened Abir beta?
Abir tells about Kabir and Rohit without mentioning his love for Mishti
Manish: Psychos. Hope the surgery goes on well. Why does Kartik not come home even for an hour?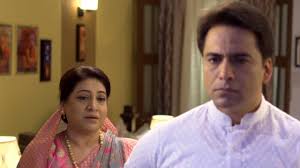 Dadi: Thats the main issue Manish beta. As a child Naira doesn't allow anyone other than Kartik and Prerna near her.
Abir: In this situation bhabhi gets violent during certain times and its bhai who handles her thats why papa
Manish:  Naira has taken away my worries is what I can say. She has made Kartik into a caring human
Swarna goes to the shrine area
Swarna: Bhagwan ji like I prayed Naira changed Kartik but now she is in a great trouble. Make her alright soon.
Dadi: Pray well Swarna. Naira is the only one who has changed Kittu. She is his world now. Pray for her. She can only bring Kittu to you
**********************************************************
Next  morning 7 am City Hospital
Everyone including Manish and Dadi reach there. Manish introduces himself to Naitik
Manish: Stay strong Naitik ji Naira will be fine soon
Kartik goes to Naira with a cotton candy
Naira: Yeyyy give me
Kartik: One condition
Naira: What?
Prerna: You have to have an
Keerthi: Injection
Kartik: What? You said
Mishti: Bhaiya surgery is going to happen you are afraid of injection
Kartik: Dont remind me Mishti. Im already suppressing my fears
Prerna: No need to fear Kartik
Kartik gives the cotton candy to Prerna and turns to leave. Naira hugs him tight
Naira: Dont leave me Kartik
Kartik holds her tighter as if he is transferring energy from her for his existence
Naira: Kartik…friend….Promise me
Naira moves away and extends her hand for promise.
Kartik grips it tight and fights his tears. Naira takes his hand closer to her face. Kartik is unable to fight anymore and his tears drip down seeing which Naira gets teary eyed.
Keerthi : Kartik dont worry. God cannot neglect all our prayers. He has to listen to us
Kartik kisses Naira on her forehead and then the procedures to take her for surgery like anaesthesia are done.
Its 7:57 am
Naira is unconscious due to anaesthesia . The stretcher is brought towards the OT. Everyone is gathered near it. Naira holds Kartik's hand tight.
He breaks down deep inside but puts up a brave face
Kartik: All the best my Sherni. I know you will win
Naira is taken inside. As she disappears from sight all the bravery fades away and fears grips
. Abir runs to him
Abir: Dont worry bhai. God will not betray us
The word God Strikes Kartik
Kartik: You all be here Ill come back in some time
Manish: Beta
Kartik: Ill be fine papa
Kartik leaves. Mishti is not seen and Abir goes in search of her
He spots Mishti crying in her cabin. On seeing him she hugs him tight
Abir: Mishti dont cry please. Its you who must handle us being a doctor
Mishti: But didi
Abir: See whenever we stand in front of the OT the surgery has been successful
Mishti: What?
Abir: Im talking about Arushi. The main reason for us to be together and yeah I forgot a good news
Mishti: Whats it?
Abir: Im fulfilling my promise to her. As soon as bhabhi recovers Im taking Arushi to my show.
Mishti: She is better now. I saw her during her checkup
Abir: The same way bhabhi will be better . Now wipe your tears and smile
******************
Kartik reaches the Dargah. He goes on his knees and folds his hands
Kartik : Oh God Years ago I prayed for my maa but she left me forever. Again Im in front of you for my Naira. Please dont take her away from me. She has suffered a lot and dont punish her anymore . I know I have never visited you in these years. I drank I was rude and this girl has made me smile, she taught me to love and now I love her like there is no end. I want to live life with her. I want to hold her hands and take her with me till eternity. Please save my Naira.
He bows down to seek blessings
****************
Prerna and Anurag are in the room taking care of all. Prerna feels dizzy and is about to fall. Anurag holds her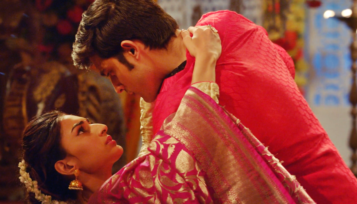 Anurag: What happened?
Prerna: Nothing
Anurag: Scolding everyone for not eating and then doing the same yourself
Prerna breaks down hugging him
Prerna: Anurag…Naira was always cheerful..then Kabir changed it all…I lost my friend .its only after Kartik's arrival she was getting back to normal and now..
Anurag: Dont worry..she will be alright. As Kartik says she is a sherni .
He takes her with him and feeds her
Church
Kartik lights the candles and starts to pray
Kartik: I know I have hurt many people who love me by being rude and alcoholic. Now I love someone dearly and she is in danger. Lord Dont punish me by hurting her. I vow to never touch alcohol in my life again. All I need is my Naira
Her words "  Kartik Goenka I love you..I love you so so much" rings in his ears as he breaks down
Akash's office
Naina and Akash are in their office monitoring Mr.Mehta
Akash: Why has he treated Komolika?
Naina: He is planning something Akash. We need to be careful.
Ishani walks in
Ishani: Naina is right. Aryan too had a visitor recently.Aditya too was visited by someone recently. What I say is be careful with Kabir and Rohit too
Akash: Okay Ishani
Ishani: He is like an Annabelle doll.
Naina: I did not get you
Ishani: Naina..Annabelle attracts the evil spirits from all over towards it. Which makes it more dangerous
Naina: I put everyone into trouble. Now
Akash: You did not do it intentionally. Stay calm. Lets go back to hospital now
Temple
Kartik fold his hands before the deity
just then his mobile rings
Kartik: Naksh what happened?
Naksh: Where are you Kartik?
Kartik: What happened?
Naksh: Naira needs blood. She is O positive
Abir: Maa is O positive only
Kartik: Swarna Goenka
Naksh: Can you bring her Kartik? Its urgent. Blood back is out of stock
Kartik: Okay
Kartik: Krishnaji why are you taking my test again and gain
He cries and goes to Goenka house
Goenka House
Kartik runs inside
Kartik: Mrs.Goenka I need your help.  I have always insulted you but please help me save my Naira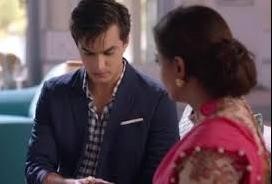 Kartik cries bitterly.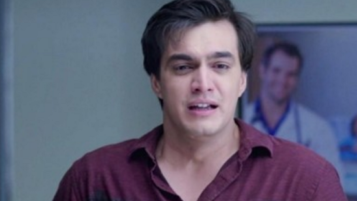 Swarna is broken by his state
Swarna: Ill come with you Kartik
Kartik takes Swarna with him.He runs up to the theatre. She enters to donate blood. Kartik faints
Abir: Bhai…bhai….
Kartik is taken to the emergency.
Time passes by. Kartik slowly gets consciousness. He gets up when doctor stops him
Doctor: Kartik..relax..I need to check you bp..you fainted due to low bp
Kartik: Is the surgery over? How is my Naira? Has she gained consciousness?
Mishti comes
Mishti: Bhaiya surgery is a success. Naira di is in post op care. She will gain consciousness tonight
Kartik is still worried.
GUYS NO PRECAP TODAY. SORRY