Karishma: Mohit! no more colours, stay away from me. dekho mh mana kr rhi tumhe!
Karishma taking back steps and Mohit throw colours on her
Mohit: bura na mano Holi hain !
Karishma: Mohit!! just wait and watch now !!

Mohit: hey! don't take seriously. Karishma?
Then they start running. Mohit running first and Karishma is on his behind.
In our Sairat's room
Sai was thinking about her Aba and Usha Masi. She really missing Gadhchiroli. She remembered her memories of Holi at Gadhchiroli. Her Aba brings many colours for her. She, pari and other friends played together. Her day was started by her father's blessing. She was totally lost in her thoughts.
Virat: Sai! ( shout)
She comes into reality and gets shocked.

Virat pointing a gun at her.
Virat: how dare you to lost in thoughts today Sai?
Sai: what's that Virat sir?

By seeing her amazing n scare mixing face Virat starts laughing. and press the trigger.
and colour water spread over sai's face.
Sai: Virat sir? ap bache ho kya?
And left the room. Virat follows her. Today like Virat is not in himself. He just lost in Sai. Both come out in an open field near their house.  Sai applies abir on Ashwini and Ninad's feet and take their blessings. Both bless her and apply colours on Sai's cheek.
Sai: Happy Holi ayii ,Baba
Ninad n Ashwini: Happy Holi beta!
Ninad: beta, woha laddu, snacks and sharbat ke arrangement hua hain! Enjoy ok?
Sai: ok baba
Sai starts looking at the arrangement and someone enters, it's none but Patralekha Aka Pakhi.
Pakhi in mind: ( mhne mari entry yarah tum kaha ho Viru jaanu, tang tang tang… where is Virat? and that stupid village girl Sai? Today will show her what I'm and she is nothing in front of me. on my way, a lot of boy staring at me today Virat will definitely slip today. Sai! you dare to snatch my cutie pie Virat. Stupid girl just wasting your time)
Pakhi: ah hey Mohit? where is Virat?
Mohit and Karishma stop to see Pakhi.
Mohit: I donno
Karishma: Virat dada is there!
Pakhi looks in the direction with a huge smile, Virat grabbing some colours. She thinks she will be the first one coloured by Virat. so she calls his name to let him know that she is there already.
Pakhi: Virat! here here. Happy Holi
Virat: rh Pakhi Happy Holi, ah! Enjoy ok? Actually m in hurry see you later.
Pakhi was about to tell something more but Virat just runs away with colours. Pakhi, Mohit n Karishma stares at Virat and see him go to Sai who is busy to see arrangements.
Pakhi gets amazed to see that Virat ignore her just for Sai. Her smile just vanished.
Virat: Sai!

Sai: Virat sir! no! (and starts running)
Virat also follows her, He grabs Sai's dupatta and throws colours over her.

Sai Virat both start laughing to see in each other eyes and soon they have an eye lock with a light smile.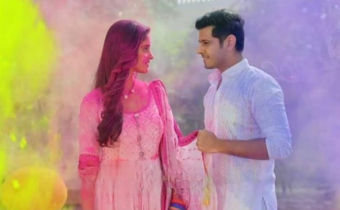 Virat: finally mere rang me rang hi gye tum! (in deep voice)
Sai: ab ap bhi rang jao ( apply some colours on Virat's cheeks)
Virat still grabs Sai's dupatta. Colours flowing over them. Mohit takes out his phone and starts to clicks their romantic photos and send them to Virat n Sai's what's app.
Karishma: Pakhi didi, Happy Holi ( apply some violate colour on her) ak baat bolu? Virat dada and Sai vabi look stunning together, aren't they?
Pakhi stares angrily at Karishma. Karishma smile and take Mohit away from Pakhi. Pakhi again looks at Virat and Sai. She gets jealous and more furious with Sai. Pakhi walks away from there with failure tears.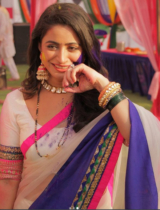 Pakhi in mind: (Sai from now snatch Virat from you become my stubborn. be ready will send you to your village soon!)
Sunny: pakhi? where are you going?
Pakhi: home
Sunny: why so early?
Pakhi: what will I do here, when Virat is busy with his newly married wife
Sunny: Pakhi? Virat had a crush on you, and I informed you that. after hearing it you just make him dance behind you. He tried to impress you in many ways but you just took advantage of his feelings. He was about to propose to you but he always shows his feels directly to you, you just ignore them. Now, why you being so upset if Virat finds himself happy with someone else.
Pakhi: I never said m not going to accept him, and he was about to propose to me, but this village girl just comes between us.
Sunny: she is now Virat's wife Pakhi. Anyway m sure if he proposed to you then you might show attitude and again start to making fun of his feelings.
Pakhi: shut up sunny!
Sai start laughing, Sunny and Pakhi both see behind.
Pakhi: now why are you laughing?
Sai: The way you told to shut up to Sunny bhaiya, your face reminds me of the corpse bride face. are you both lost sisters? ( showing Corpse bride picture from her mobile)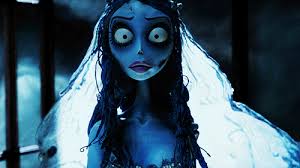 Sai: same to same reaction style na!
This time Sunny also start laughing. Pakhi feels too much insult and left the place.
Sunny: Sai Vabi, Please don't misunderstand Virat. He just had a crush on Pakhi. and really Pakhi makes so much fun of his feelings.
Sai: but still he likes her (in mind: and also let her kiss his cheeks)
Sunny: it's not like this. Virat just liked her. But he wasn't that serious as he knew that Pakhi has no feelings for him.
Sai: hmm ok, You go inside m come here to make a call.
Sunny: ok Vabi. ap ajana!
Sai: yup!
Sai makes a call to her Abaa.
Precap: Sai Virats dance and twist with laddoos! 
The post Arrest under love- Chapter 13 appeared first on Telly Updates.