Hey guys, I am back with another chapter, hope you enjoy it as you enjoyed the previous one. Sorry if there are grammatical or structure faults as I did not find time to correct as I was busy. At home, we do not have someone who cooks for us so I have to the chores and write an update, so I took time. But the next episode is ready I will update it soon.
Comment's answer:





@Mennahussein55: Thanks yaar. Tried to update soon





@Aisha08: It feels you understand the honey part😅





@Aarushi: Thank you🙏. Tried to post soon





@Yashi: Thank you🙏. Happy Holi to u too (even though it's late)





@RIANSH FOREVER: Thank you🙏. Honey means adult things😉





@Pomu: Hey, I would love to be your friend but I do not know how to send friends request to people who are not registered but yeah if you have Instagram, we can chat there. If not tell me if you have a Tellyupdates account then I will send you a friend request😊. Big love💕.





@Game girl: Thank you 🙏. Honey part means adult things😉





@Shivangi: Well I'm not doing fine but yeah it's okay. Thank you😊





@R.N😇: Thank you🙏





@Aishwarya Wanjari: Thank you🙏





@Ishu: Thank you🙏. They are a one big happy family





@Tanya K: Thank you🙏





@Jayashree: Thank you so much for those sweet words😊😊. Sometimes I just do not have words to answer you. Big love💖💖





@Priyadharshini: Thank you🙏





@JJ: Thank you🙏





@Vkjhp: Thank you🙏





@RiansHLoveR: Yeah he needs so much honey, he will get diabetes😉😉😂. I tried to add some honey scenes, hope you enjoy them.





@Amnna: Thank you🙏





@Thakur Priyanka: Thank you🙏





@Krishna Aggarwal: Thank you🙏. Tried to post soon.
So let's start:
In the night, Riansh's room:
Vansh (sitting on the bed): honey you promised to give me some honey tonight, then come and give some.
Riddhima (standing near the dressing table and removing her earrings): vansh, can you sometimes control your horses. If you don't then tomorrow you will be tired in the morning, then who will help me in the engagement decorations.
Vansh: it is okay yaar. Anyways we will not take so much time, just one hour, will not make me tired
Riddhima: when you say one hour, you take five hours.
Vansh: riddhima please, or else my horses will expose
Riddhima: accha I am coming.
After removing her jewelry and make up. She went near vansh removed her nightgown and went inside the duvet with vansh.
In the morning, Riansh's room:
Riddhima was getting ready. She was wearing a yellow silk sari.
Riddhima: see, I told you that you should not have some honey last night. However, you did not listen to me. Now see you are still asleep
Vansh (in sleep): what should I have done? My horses wanted some honey so gave it to them
Riddhima: yeah, now get up and get ready. I am going, I have work to do
Vansh (still sleeping): ok
She went from the room and went downstairs.
Ishani (yawning): didi, what time is it.
Riddhima: don't you know, it is 5 PM. You were late so Aryan was engaged with someone else
Ishani (eyes popped out): what. You are kidding, right'
Riddhima (laughs): yeah. What did you think that Aryan would do that? Never, he knows that if he does that then you will burn him alive
Ishani: ridz, stop teasing me. Today is my engagement day
Riddhima: so what, if I don't tease you right now then will I tease you
Ishani: continue, while I am going to get ready
Riddhima: so early
Ishani: no, I meant that I am going to take a bath and come to have breakfast
Riddhima: ooh ok. On your way wake up, siya
Ishani: ok
Riddhima continued with her decorations. When she was putting the orange flowers she was about to fall but vansh came and caught her.
Vansh: honey, you like to fall a lot.
Riddhima: shut up, vansh. You are talking as if, I want to fall every day and you come to catch me
Vansh: but what if I am not there
Riddhima: then I will find someone to catch me *winks
Vansh (possessive): no, I will always be there
Riddhima (kissing his cheek): now that's like my possessive hubby *smiles
Vansh: you should have given me on the lips *wink
Manish (coughing and interrupting them): vansh, a wife kissed his wife on the lips only in the room'
Vansh: oof, dad, you are the second villain when it comes to spoiling my romance
Manish: accha, who is the first
Vansh: mother-in-law
Manish: good, I will tell her to continue.
Vansh: dad…
Manish: what! Don't you remember how you used to spoil mine when you were a kid? Therefore, I am paying you back.
Riddhima (interrupting their conversation): stop! Father-in-law, please go and check about the music. We do not have much time left.
Manish left while riddhima and vansh continued with the conversation. After sometime, everyone had their breakfast and continued with his work.
In the evening, the whole TR House was decorated beautifully with orange and peach artificial flowers. Everyone was ready in their clothes, chose by Abhay.
Abhay (to riddhima): I tried something different for everyone.
Riddhima: yes, dad. Moreover, I like it a lot.
Riddhima (to Priya): mom, you looking nice
Priya: thank you. You too, you are looking beautiful. Today, vansh will have a heart attack once he sees you.
Vansh (interrupting their conversation): right, mother-in-law. You do not know how I am feeling right now, I feel like eating her (winks to riddhima)
Riddhima (embarrassed vansh at least not infront of mom
Vansh: why not after all my mother-in-law is cool, right
Priya: right but stop calling me mother-in-law. I am not old, I am still young, you know. Call me Priya mom.
Uma (coming towards them): what do you mean? That I am old as riddhima calls me mother-in-law
Priya: maybe
Vansh: Priya mom and mom, please calm down.
Priya: now that is sound better. (To Uma): see your son is so understanding
Uma (attitude): I know after all he is my son
Riddhima: mom and mother-in-law please go and check if everything is ready. Especially for mom, the engagement ceremony is going to start so check if the rings are ready.
Priya: ok, I am going
Riddhima (to Uma): mother-in-law, check if the food is ready
Uma: hmmm
They went while vansh had finally a chance with his wife
Vansh (catching her wrist and pulling her closer): Finally, I found time to tell you how beautiful you are looking. From morning, you are so busy in the decorations that you did not even look at you poor hubby (he said pouting)
riddhima: oooh, my sweet hubby. Are you angry?
Vansh*nods
Riddhima: ooh, what should I do to make you, smile again?
Vansh: hmm, give me a kiss
Riddhima: not now, they are so many guests. I will give you one later
Vansh: are you sure?
Riddhima: ha baba, now leave me I have so much to do…
Vansh: ok
Vansh left her. While she left to do her work. After some time even Aryan and Ishani were ready and came downstairs.
Everyone's outfit:
ISHANI'S OUTFIT: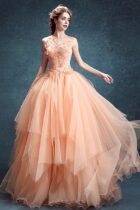 RIDDHIMA'S OUTFIT: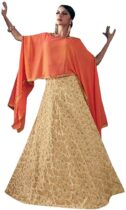 SIYA'S OUTFIT: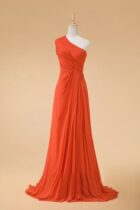 UMA'S OUTFIT: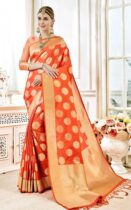 PRIYA'S OUTFIT: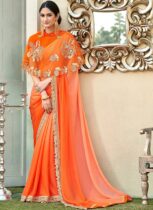 ARYAN'S OUTFIT: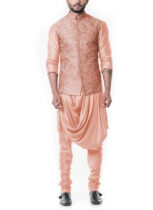 VANSH'S OUTFIT: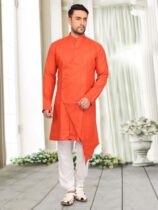 MANISH'S OUTFIT: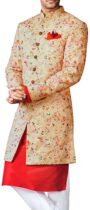 ABHAY'S OUTFIT: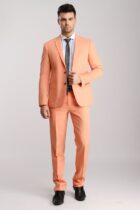 Vansh: Aryan, after the ring enters you finger, you will be doomed
Riddhima (angry): what do you mean? That when I put the ring on your finger you were doomed
Vansh: yeah
Riddhima: you will see what I do to you, tonight
Vansh: see, Aryan what I was saying, ishani too will treat the same way.
Ishani: aree meri pyaar devar. What do you want? You want my groom to run away (She said laughing)
Vansh: so that we can see if he is a man
Aryan: if you are finished teasing me, can we start
Vansh: hmm, you are so impatient to became ishani's slave
Aryan: yes, so even you are one. Riddhima's slave *winks
Riddhima*laughs: good one, Aryan
Aryan: I know, right
Priya: if you people are finished let us start, the auspicious time is running
Riddhima: yes
They started the ceremony. Aryan took the ring and put in ishani's finger and ishani did the same, everyone clapped.
ARYAN'S RING: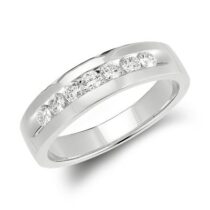 ISHANI'S RING: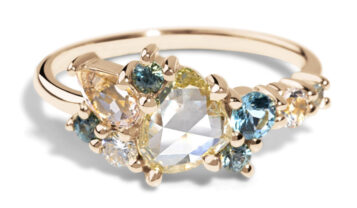 Vansh who was present there took the mic and said:
Vansh: my family knows what is coming up but for the people who do not know, my wife and I's anniversary is near. That is why along Aryan and Ishani, I have decided that riddhima and I will revive our wedding rituals. That is why today even we will have our engagement again. (He walked toward riddhima who was standing near ishani and bended, he took two boxes from his pocket and said): these two boxes have, our rings. Therefore, Mrs. Riddhima Vansh Raisinghania, would you want to be engaged to me again.
Riddhima, who did not know what say, just nodded. She was having tears in her eyes. Vansh who saw that stood up, and cleaned those tears.
Vansh: don't you know that I hate tears especially yours. And by the way who cries on her engagement day, no one except you. So stop crying and forward your hand so that I can put the ring
Riddhima smiled and forwarded her hand and vansh put the ring in her finger. She too, took the box and put the ring on Vansh's finger. Everyone clapped and were happy for them.
RIDDHIMA'S RING: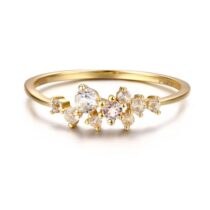 VANSH'S RING: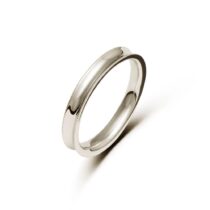 Vansh took the mic again: so let us continue with enjoying ourselves.
Vansh went attend a call while someone followed him. Vansh went in his study room and that person continued to follow him. Vansh felt someone was following him and turned to see who was it and he said:
Vansh: you! What are you doing here?
After some time, vansh came to the hall, the guest had left. Siya was sitting worried as if waiting for someone. When vansh came, siya quickly run to him and asked
Siya: so bhai, tell me did you like Angre. Is he good for me?
Vansh: no, siya, I did not like him
Riddhima (feeling bad for siya): but vansh…
Vansh (strict): no discussion on that. Angre is not good for siya and that is it
Siya (crying): but bhai, I cannot live without him, please
To be continued…
So that is all for today. What do you think that will vansh change his mind after seeing siya cry? Hope you enjoyed.
Big love. Wear your mask and follow all precautions told to keep yourself safe from covid-19. Stay safe and stay happy
The post Thirst For Revenge #Riansh #IMMJ2 (Chap.19) appeared first on Telly Updates.