OK SO AS I HAVE WRITTEN ON MY WALL I WON'T BE ABLE TO POST FOR 2 DAYS. BUT BECAUSE OF AAYU (DUSRA DOSE AAYU KE LIYE😁) I AM POSTING TODAY.
AND YES YES I DID ONE BIG MISTAKE 😂🤣 I HAVE WRITTEN TRIP TO EUROPE RIGHT? ACTUALLY I WAS WRITING FINLAND. COZ THIS FF'S PLACE IS PARIS AND IT'S IN EUROPE. SO RIDDHIMA IS GOING TO FINLAND SO NO MORE CONFUSION.
EPISODE STARTS WITH…..
Morning….
Riddhima waked up and got ready. She made breakfast…
Riddhima: vansh your……ofoo riddhima how stupid of you. He is not here. So just stop. (Day dreaming girl)
She gave food to rocky. He was eating like he has not eaten for years. But true na he was not eating well from 2 days.
Riddhima: oho today you are eating nicely. Hmm. What is the reason?(patting him)
Rocky: (barks) (don't worry friends i will tell his inner feeling) i am happy because that stupid hooman left from here. Dare you to invite him again. (inner feeling)
In college….
Riddhima entered class. This time some seats were empty.
Riddhima (herself): i should sit with vansh or alone? Hm he has not reached yet let's see i will occupy empty seat if he want he will sit with me.
Vansh entered the class.
Vansh(himself): i think i should sit alone.
Vansh(heart): no you should sit with riddhima.
Vansh: why?
Heart: because in 2 days she will leave for finland and i want to make her friend.
Vansh: but i don't want to.
Heart: sure?
Vansh becamed silent. He camed to sit with riddhima.
Vansh: hi. (Casual)
Riddhima: hello.
Vansh: so all ready for finland.
Riddhima: yes. I will leave in 2 days. And I don't want any more arguments between us. So..
Vansh: friends? (Wo bol rhi thi koi baat nhi achha kiya😂 maine)
Riddhima (surprised): sure.
They both shaked hands.
(Dekho guys ab aur time pas nhi sidha 2 din baad)
After 2 days….
Riddhima was packing her stuffs and she kept rocky with shruti. She was standing outside her house waiting for cab. Just then vansh camed there….
Vansh: all set?
Riddhima: yeah. Just waiting for cab.
Vansh: huhu you will enjoy there right?
Riddhima: see trip is of 4 days in that for 2 days i will enjoy and one day i will to go Finland's most beautiful icy place and make a beautiful sketch. It is my dream to draw it's beauty in front of my eyes. And next day i will leave from there.
Vansh: sounds cool. Oh see your cab.
Riddhima: ok bye vansh.
Vansh: wait. Take this gift. From my side but you will open it after 10 minutes. (Smiles)
Riddhima: ok thanks. (Smile)
They both bid bye.
Riddhima left from there to airport.
After 10 minutes….
Riddhima: let's see what he has given.
She opened that gift and…..
BOOM!!
A horror doll camed out. Riddhima startled. She threw that box and screamed…
Riddhima: vansh!!!!!
Vansh on other side laughed and left from there.
Then riddhima departured from paris and landed on finland.
Riddhima: such a beautiful place.
She left and checked in her hotel room.
Hotel manager: hello beautiful how may i help you. (chipku typo)
Riddhima: um i have a booking here. Name riddhima.
Max(hotel manager): oh yes. Your room no. Is 114. May i help you?
Riddhima: no thanks.
Max: have a great day riddhima.
Riddhima (thinking): limit idiot if you were not manager i would have shot you in your head. Riddhima? Who the hell permitted you to call me riddhima. Thank god rocky isn't here otherwise god knows what must have happened.
In paris….
Vansh left to principal office to collect his gift. He collected it and left to his house.
Back to finland…
Riddhima left to travel and she visited…
Day 1
1st place: suomenlinna fortress
It is one of the world's largest sea fortresses, the 18th-century fort on Suomenlinna is a 15-minute ferry ride from Helsinki's Market Square (a mini-cruise that has lovely views of the city as a bonus attraction). Once here, you could easily fill a day with its sights and activities.
Riddhima: wow. It's so amazing.
2nd place: lake saimaa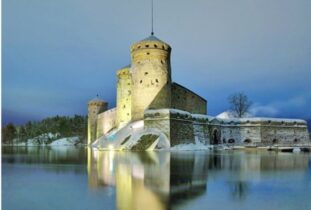 The entire eastern portion of Finland is more sea than land. With literally tens of thousands of lakes, rivers, marshes, and ponds, eastern Finland is a fabulous aquatic playground. The dominant lake of the region is massive Lake Saimaa, the "lake of a thousand islands." Lake Saimaa itself has an area of some 1,300 square kilometers.
Then riddhima got tiered. She left to her hotel room. And got freshed. Then she slept due to tiredness.
Precap: some more places and surprise!!
GUYS IF YOU DON'T WANT ME TO ADD TOURIST PLACES TOUR THEN TELL I WILL NOT ADD AND SKIP IT. SORRY FOR CONFUSION YOU IN EUROPE, FINLAND,PARIS. DO COMMENTS. TAKE CARE. BYE BYE.