Darshana came with a jug of water. Sharath started screaming looking at the mirror ….Go, Maya Go away .
Darshana : What's wrong with you Sharath ? Why are you screaming Maya again and again ? Who is she ?
Sharath : Darshana Just stay away from me, if you came close to me she will kill you.
Darshana ; What rubbish ? I guess all these are happening because you have watched horror movie at midnight. I don't know that literally it will scare you these much Sharath.
Sharath : What do you mean ? You think I am mad, I am upnormal.
Darshana : I didn't mean that , Sharath.
Sharath : Darshana just go
Darshana : You was not like these earlier, Sharath calm down.
Darshana sees the guitar and gives it to Sharath.
Darshana : Sharath for a distracted mind a melodious song is not less than any healing medicine. So just play the strings and sing that song which you use to sing for me.
Sharath : Perhaps you are right . This music will change my tension.
Sharath picks the guitar and starts singing "Onnaavaan Njan Enne
Nenjil Theerthoren
Pranaya Prapanchamitha…
Darshana……
Sarvam Sada Nin Sourabham
Darshana……
En Jeevanil  Saayoojyam
Darshana
Snehaamrutham Ennileku, Darshana.."
[For Us To Unite,
Withn My Heart….
I Created A Universe Of Love
Darshana..
Your Fragrance Everywhere, All The Time
Darshana..
You Are My Salvation
Darshana…..
Just pour the essence of Love to me ,Darshana…]
https://www.youtube.com/watch?v=epAFDEJImrU
Darshana was lost in his music. She shut her eyes and started enjoying it. Sharath was also must involved in it forgetting everything.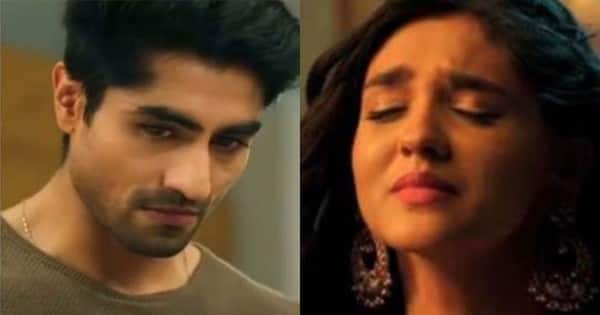 But unknown to them some one was there and it was none other than Maya. Maya slightly lightened a match stick and stared Darshana with a crooked smile
Darshana screamed : Aaah!! Sharath, Fire!!! Some one has put fire at my dress. Sharath, my whole body is burning ,it is giving the smell of Petrol .
Sharath was shocked to see his wife burning in fire before his eyes.
Darshana was trying to end the fire by pouring water from jug, but it didn't worked. Instead of it the fire's flame went intense and Darshana tried to run from there but she was trapped inside the fire circle of Maya.
Maya's form was visible for Darshana and Sharath.
Darshana was shocked to see Maya .
Maya ; Do your remember me ?
Sharath : You know her , Please leave her Maya.Don't burn her in fire.
Maya : I will show you something, after that you can decide.
Maya shows a flash back of BEFORE TWO YEARS at the mirror image.
Sharath : I will be waiting for you at Hotel International plaza after my conference. Be there by 7 pm.
Maya : Okay Sharath.
Sharath : We will celebrate our anniversary very much special there, Like a second first night the room will be decorated for us.
Maya : Really !! Sharath, please. Your work is really important.
Sharath : Maya come in right time. And don't forget to bring the night dress , you looks damn hot in that.
Maya : These days are you are so romantic
Sharath : Of course , You are my most sizzling , gorgeous lady love. I swear I can't love any one than you.
Maya ; Sharath, don't make promises, What happened if I will die and you will marry some one else ?
Sharath : For god sake don't talk like these. You are mine , nothing can separate you from me , even a death.
Maya smiles and hugs Sharath.
Maya : Sharath I am so lucky to have you in my life.
Sharath : Bye Maya. Finish your works and be there
Sharath waves his hand and leaves. At the evening Maya dresses up much beautiful and elegant in saree . She looked herself in mirror and twirled saree's pallu with a smile
Maya : When Sharath will see me in this one, I am sure that will be not less than any shocking surprise. Oh , It's already 6 pm. I need to leave.
Maya locked home and started walking through road. But suddenly a car hit her from back and a girl was driving the car. It was none other than Darshana.
Maya fell down in pain and screamed ,Darshana get down from the car and went near her.
Darshana ; I am sorry, Iam
Maya : Please …Take me to hospital, my husband
Maya wasn't able to say anything as she was injured severely at the accident.
Darshana looked at her watch.
Darshana ; Oh No!! I have to go for an important meeting. But this person…..
Maya extended her hand in pain for a help . Darshana looked her shockingly.
Darshana : This is an accident case. If police will come she will tell that my car hit her , they will do enqyuiry and all. And If I miss today's opportunity of my job I will not be able to get it any more.
Without saying anything Darshana quickly rushed inside the car and diverted car to another road. Maya screamed in pain and eventually she fell into death.
After 3 Hours
Sharath : Maya !!!!
Police officer : Calm down Sharath. Which vehicle hit your wife , it has no evidence. But police will find it soon.
Sharath weeped infront of Maya severely. He did all the final rituals and cremation of Maya.
At a police station , after 6 days
Police : You know what you have done. You have killed a person by hitting car
Darshana : Sir I didn't done it intentionally. Sir it was an accident only.
Police : Why you didn't took her to hospital ? She might have alive if you saved her in time.
Darshana : Sir I was scared and moreover I was been going to join the dream job and that was prior to me.
Police : More than a life !!
Darshana was silent.
Police : Okay , I will not utter this truth to that lady's husband if you are ready to have a compromise of 50000 . What you say ?
Darshana : Sir!!!
Police ; Think well, Your career, life, dream all will go if you are in jail.
Darshana nodded her head
Darshana : I am ready to give the money.
Police : Case will be closed.
PRESENT TIME 
Sharath : Darshana killed you, Maya ? She is so cheap !!!
Darshana : Sharath I doesn't know that Maya was your wife only. You hid it from me.
Sharath : I married you under my family pressure as all said me that I should move on. As per my family's insistence I never told about you about my first wife and her death. After marrying you, I gradually started loving you and I truely loved you to the core. But you was the murderer of my Maya. I will never forgive you.
Maya : Sharath, this girl was ambitious. She said she miss a job opportunity , Sharath if one job goes we will get another one. What about life ? Once it goes it will never come back. I came here to realize that to her.
Darshana : Maya
Sharath : Maya
Maya : Sharath, I am a ghost only. But I came here not with an intention to harm your wife Darshana , just to live again through the moments which we spend at our wedding anniversary. We both had a love marriage against all family oddes and that's why when I was dead except you none of our family neither had any sort of sadness. But Sharath Darshana loves you truely and I don't want to snatch you from her. What I felt , What was my pain to make you both realize that one only I came here.
Maya throw the match stick and  fire was ended. Maya touched her and all the burning aches of Darshana's body was cured.
Darshana : I am sorry Maya. That day I was so cruel and selfish to do that with you. I am your culprit. But I really want to live a long life with Sharath . Please forgive me.
Maya smiled with teary eyes.
Maya : Darshana, Sharath loves you really .I have seen that one in his eyes. I was trying to scare him little a bit just to test whether he loves you or just pretending love ? But he proved he is sincere and loyal towards you. Remember one thing , A human life is valuable than our dreams, our opportunities . Dreams may come again, but if a life is lost then…
Maya and Sharath looked each other painfully.
Maya : It's time for me to go. As Shine of Love in life never ends, your love will is undending and those memories are enough for me, Sharath. Keep take care off your wife Darshana.
Sharath ; Maya ,
Sharath came near her to hug her.
Maya : Sharath, I am just a ghost only. Hug your wife Darshana who is with you.
Maya's soul disappeared in sky with a smile . Sharath and Darshana looked at upwards painfully.
AN : Thanks a lot readers for reading this one. Hope you liked this one also.