The episode start with
Next day,
Pragati is watering her plants on her terrace when she sees Raghbir talking with some random girl on the roof of that girl's apartment.
On another appartment's terrace,
Raghbir (to a girl): Are you from Himachal?
Girl: Yes, how do you know?
Raghbir (smiling): You are like Apple. Anyone can guess. Here, in our state girls are healthy. You know, as the country is, same should be the guise. There is very good bonding in Haryana and Himachal. But we often clash with Rajasthan over water.
Pragati tries to hear what both of them are talking about. But she is unable to hear anything.
Raghbir (having seen tattoo on girl's arm): Tattoo?
Girl: Yes …
Raghbir: I have one too, of peacock. See.
Raghbir uplift his shorts 🩳 to show the girl that tattoo.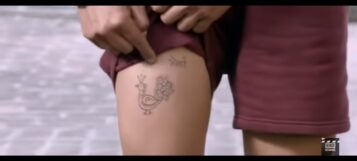 Pragati ( to Raghbir): Oye… What are you doing?
Raghbir (to girl): I will be back soon…
Raghbir climbed from one roof to another roof wall and reached the terrace of Pragati.

Pragati: What were you doing with her?
Raghbir: She has had a fight with her boyfriend recently. So she was telling me the story.
Pragati: Oh really? Should I tell bhabhi about this? Did you come here for all this?
Raghbir: Yes, of course.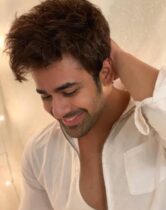 Pragati: I will not let you do this. You are a good guy.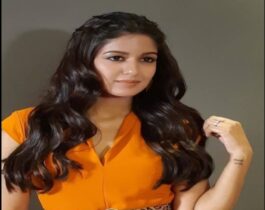 Raghbir: Who told you? I am not a good guy.
Pragati: Then what is the difference between you and my ex-boyfriend?
Raghbir: There is a big difference. He had two girlfriends at the same time and I do not have one.
Pragati: But you are going to be married to Bani.
Raghbir: But not married yet.
Pragati: You are so desparate.
Raghbir: Not everyone is like you. Many people form such relationships without telling their family. And it also helps in passing time.
Pragati: Why do you want to do time pass? (To that girl) Ritu..
Ritu: Hi, Di.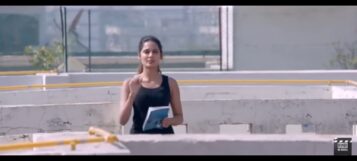 Pragati: Actually, we are both in a relationship. There was only a small fight between us, so he was angry with me. He is so sweet.
Raghbir shook his head in disagreement. The Ritu starts going down.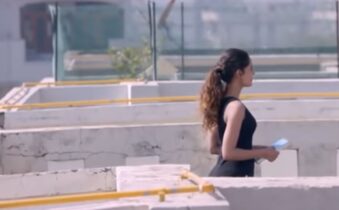 Raghbir (by Pragati): I will break your teeth.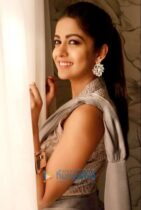 Pragati laughed after seeing Raghbir like that. Raghbir runs to stop Ritu.
Raghbir: Oh hello, stop. That girl (Pragati) is stupid but I know you are smart because you are from Himachal. Oh Apple, wait….
But Ritu did not stop.
Next scene,
In a Club,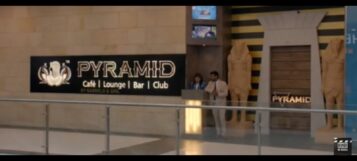 Pragati is seen enjoying with her friends when suddenly she sees Saahas entering the club.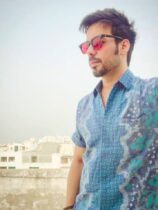 Pragati (to her friend): Who called him here?
Friend: I think, Tina called him. She didn't know about your breakup.
Pragati calls Raghbir.
Raghbir was with his friend on the terrace. He picks up Pragati's call.
Raghbir: Yes speak..
Pragati: Do you want to come to the club?
Raghbir: No.. (to his friend): what happens in the club?
Friend: There you can drink and dance as much as you want.
Raghbir becomes happy.
Raghbir (to Pragati, with serious voice): Well, if you requesting so much, I will come.
Raghbir cut the call.
Pragati: When did I request him?
Raghbir (happily): It will be fun. I will also find girls there.
Next scene,
In Club,
Raghbir enters the club, happily. He drinks many shots and start dancing to the song 'Kar gyi chull'. Pragati also joins him, just to show Saahas that they are in relationship.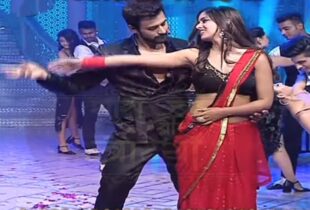 Saahas feels jealous seeing Pragati and Raghbir dancing together.
Both Pragati and Raghbir enjoy their dance to the fullest. Both are enjoying each other's company.
After sometime when they leave the club and enter in parking area,
Pragati: Really enjoyed…
Raghbir: And what about uncle and aunt? Do they know your whereabouts?
Pragati: Papa is on night duty and mummy knows about my whereabouts.
Pragati saw Saahas and his two friends Jatin and Ankur near her scooty.
Jatin: Should we call more friends?
Ankur: No need, we can handle.
Pragati smiled and moved towards Saahas.
Pragati: Now you have come at your own pace. (To Raghbir) My hero, start beating.
Raghbir get shocked 😳.
Raghbir: What? Fighting? Get lost. (To Saahas) What's my job between you two? There is problem between you two. You can solve yourself.
Pragati looks at Raghbir angrily.
Pragati (to Saahas): What I, even my sandals, are not afraid of any useless person. (Holding Raghbir's hand) And what to fear when Desi Jaat is with me.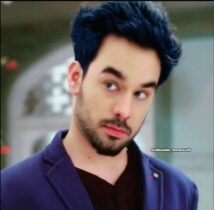 Raghbir (withdrawing his hand): No, no. I will not fight now. First of all Rajasthan is not our friend and you are not allowing Himachal to be my friend either. This matter is between you two. Solve yourself by talking.
Raghbir turns to go back. Saahas angrily held Pragati's hand.
Saahas: What do you think about yourself?
Raghbir slaps Saahas on his face.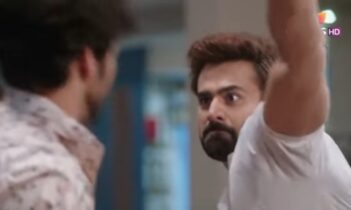 Raghbir (angrily): I told you only to talk and not to touch.
Ankur came forward to fight. Raghbir kicked him. And repeatedly slaps Saahas. Saahas fell down. Pragati becomes happy.
Raghbir (to Saahas): Say sorry…
Saahas (to Pragati): Sorry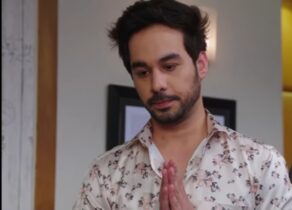 Raghbir (to Saahas): Say sorry Didi.
Saahas: Sorry Didi….
Pragati (to Raghbir): Me too, can I also. Just one time…
Raghbir: Okay
Pragati starts repeatedly kicking Saahas.
Pragati (angrily): Will you again cheat anyone? I used to trouble my family for you… Will you cheat anyone again???
Raghbir tries to stop Pragati. He grabbed her from behind to stop her. Saahas runs away from there. Pragati is still mumbling. Raghbir released Pragati. Pragati looked at Raghbir.
Both start laughing.
Pragati: Sorry… What's your name?
Raghbir: Raghbir Malhotra…
Pragati: Raghbir is enough. I do not want your name printed on the wedding card.
Raghbir smiles.
Pragati: You asked him to call me 'Didi'. I was his girlfriend. But really, I am very happy today. Truly today, my soul's wish came true. Thank you, thank you.
Pragati hugs Raghbir tightly.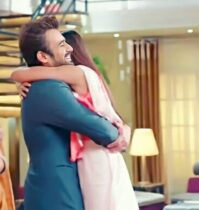 Pragati (in her mind): You are not as bastard as you think you are.
Raghbir (in his mind): No, I am.
Pragati (in his mind): No, you cannot have a relationship just for the time pass.
Raghbir: No, I can.
Pragati: You all boys feel that you are all in one category. Watching every girl with same intention, try to impress beautiful girls. If someone say yes, don't want to be with her. Even 5-6 girls seems to be not sufficient for boys. But in fact, you also have two categories. One who has just run away and second you… We girls get to knows everything by one touch only. That day, when you hold me by my waist, or when you hug me. You had no bad intention. You can never do time pass in any relation, you will only fell in love. Keep in mind that your bhabhi's sister is also waiting for you.